With our service, you can design your front-end booking panel to suit your business colours in any way you like. There are 7 styles available: Default, Brown, Red, Green, Blue, Purple, Pink. You can choose one of the styles you want, or you can create a new template with any colour. Simply select and click on the CHOOSE button in front of the panel to change the look of the panel.
Click on the Create new style box below to add a new Style.
You will see the default colours in the popup panel.
First give the name of the style you want to create.
Then you can create the appropriate style for your business site by changing the appropriate colours. As the colours change, you can visually see how the panel looks on the right side, so you can create the style you want with WYSIWYG editor.
Once you have set the colours, you will be able to override your style by clicking on the SAVE button. Then you can find the style you have created in the list and click on the CHOSE button.
Simply click on that style in the list to edit styles.
To delete Style, find the style in the list and click on it. In the Edit pane, click down the DELETE button and you'll find style.
Note! If the style you want to delete is the style that currently selected, you cannot delete it. Change the style you selected first, then try deleting it….
With our service, you can send email notifications about any actions to your customers and staff. You can edit the title and content of these email notifications with specific keywords as you want.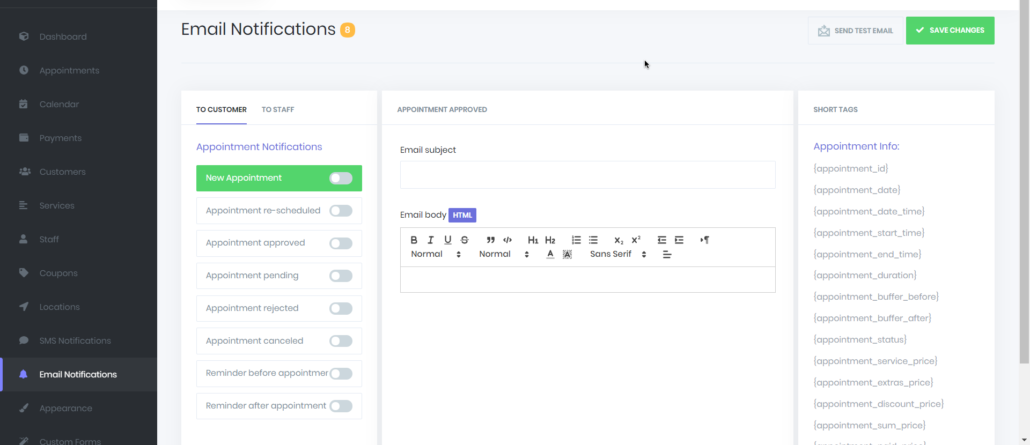 You have to adjust notifications each individually for customers and staff members.
Activate any notification you want by slider and it will turn to green when on.
You can modify emails with the editor in this section. When ready, you can send test emails to yourself by submitting "send test email".
You can send email notifications for these triggers:
New Appointment – When customer adds a new appointment.
Appointment rescheduled – When information of appointment changed by client or staff.
Appointment approved – When manager/you confirms an appointment
Appointment pending – It is used for sending notifications for pending appointments.
Appointment rejected – When appointment is rejected by manager/you.
Appointment canceled – When appointment is canceled by manager/you.
Reminder before appointment – Used to remind your customers about an appointment by sending a notification before appointment.
Reminder after appointment – You can send a notification to your customers after the appointment is over.
Access to Customer Panel – When a user is created for your customers, login info sent to customer's email if this it active.
Notification Tabs
With the help of the Notification Tabs feature, you can send specific notifications to your customers and staff according to staff, service and location. You need to create a new tab by entering Notifications and clicking the green plus sign there.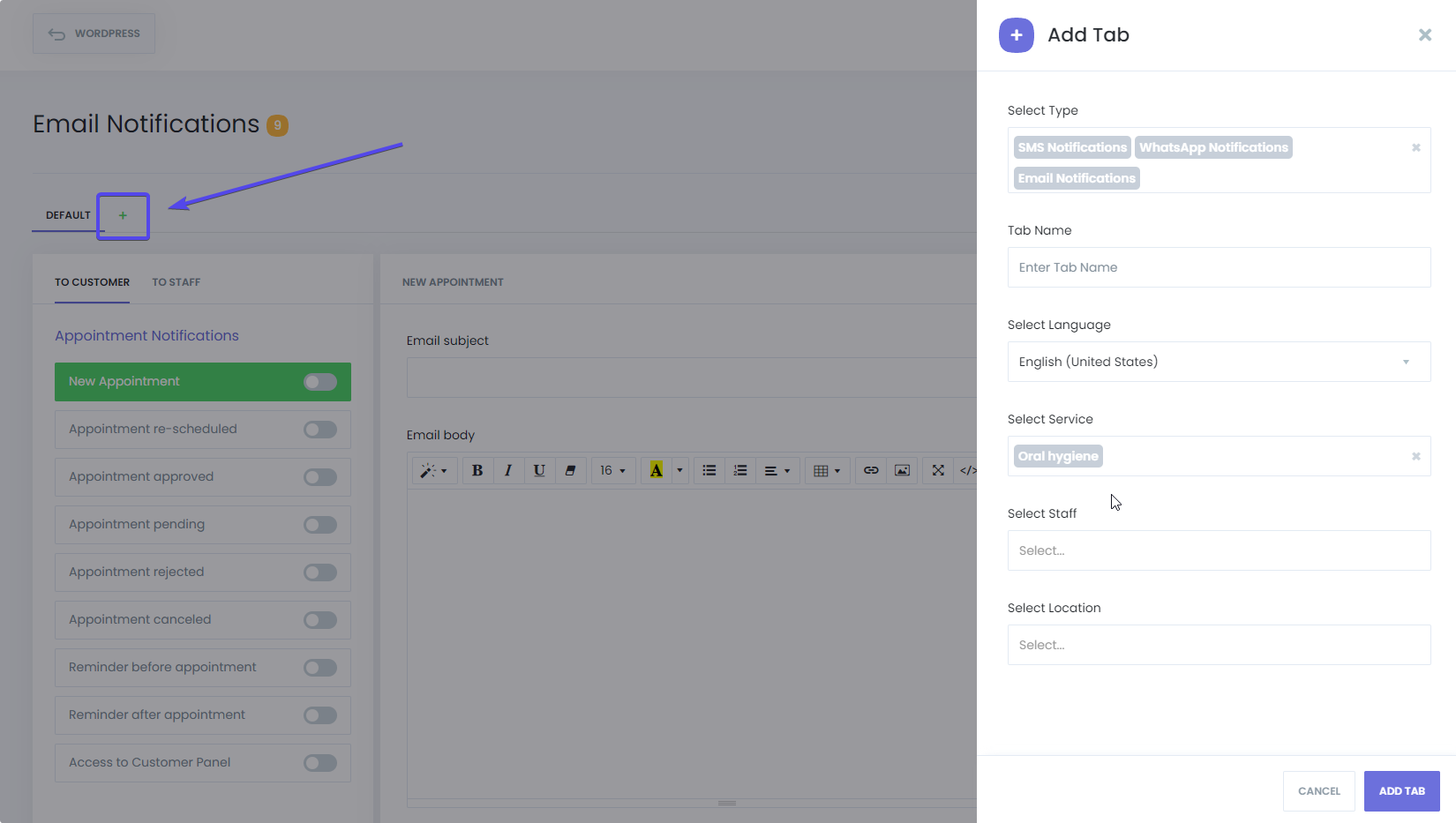 After creating the tab, this tab will appear in the Notifications section and you will be able to create the notification you want from here. The notification you create here will only be sent for the service, staff, location you selected. Also, if your site is multi language, you can send notifications to your customers in the language your site uses. If you select a specific language while creating the tab, this notification will be sent if your customer uses that language.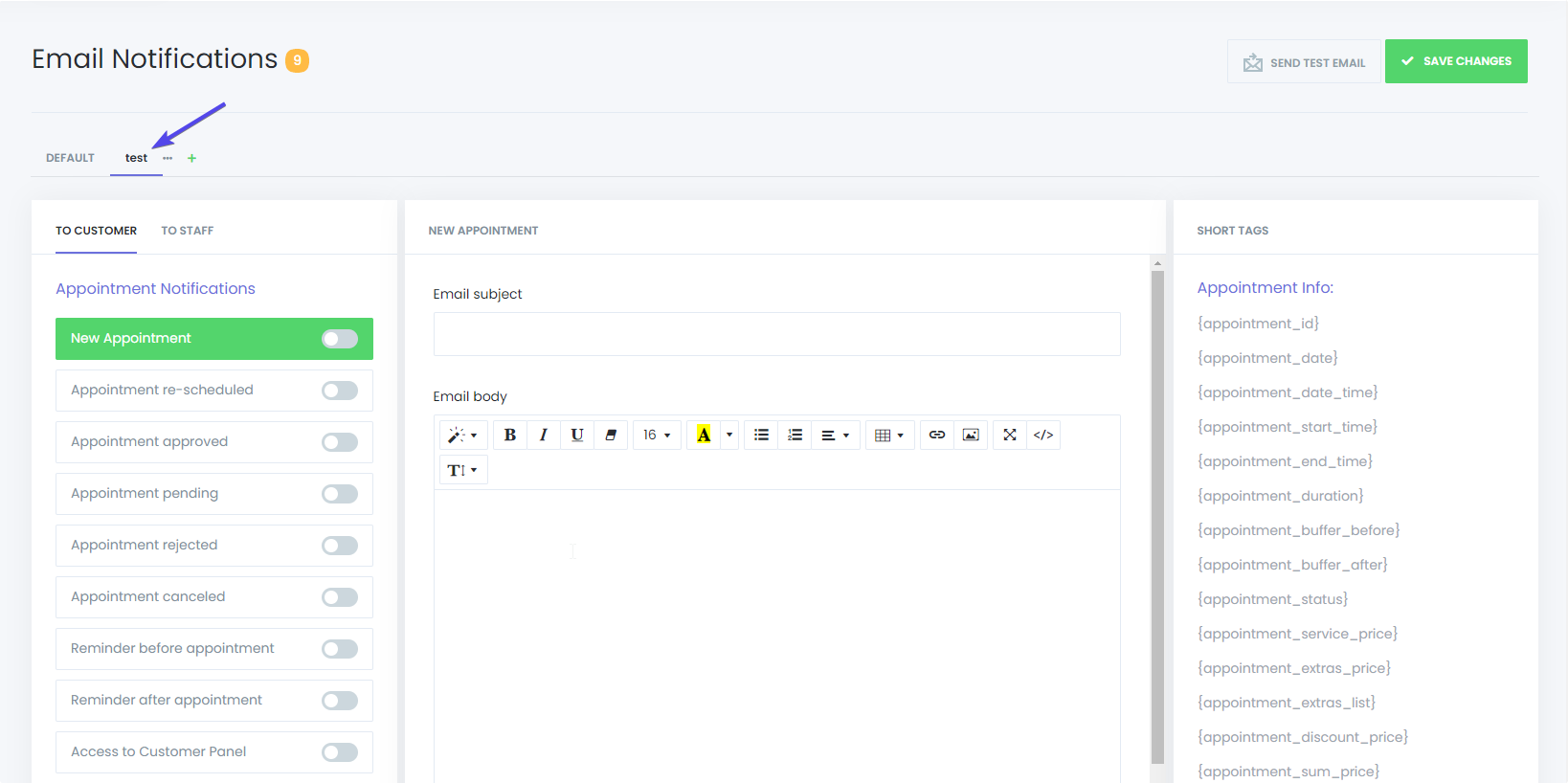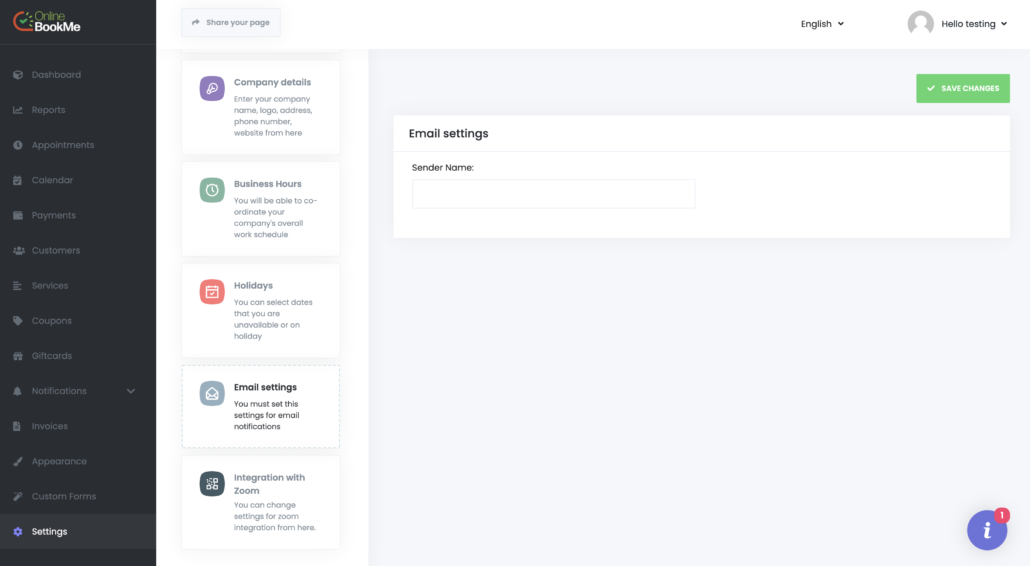 Here you can add Sender Name for your emails. It should be the entity that you display on your booking form.
Emails will be send from notification@onlinebookme.com email address with your info on Sender Name field.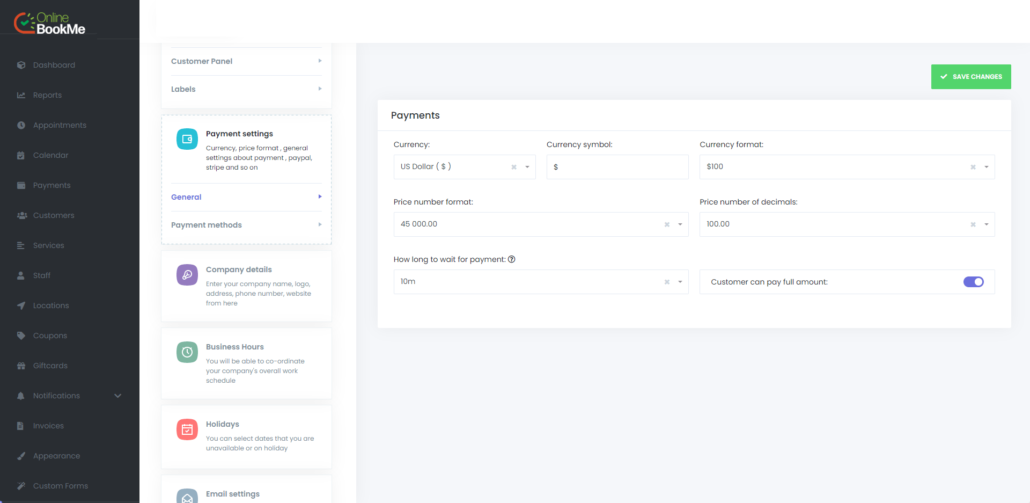 Currency
Here you can choose the currency used by your business.
Default value: USD ($)
Currency symbol
Regardless of the currency you choose, you can use any currency symbol you want.
Currency format
You can specify where currency symbol will be displayed depending your country's currency format. There are 4 type of currency formats:
$100 – Before price
$ 100 – Before price with space
100$ – After price
100 $ – After price with space
Default value: $100
Price number format
You can specify the Price number format with these settings. There are 4 types of formats:\
45 000.00
45,000.00
45 000,00
45.000,00
Default value: 45 000.00
Price number of decimals
From here you can specify how much price will be rounded after comma. If you only need full prices – no need for new rounding, you can do this with the option.
Default value: 100.00 ( 2 decimals)
How long to wait for payment
Sometimes customers fail with their payment. With the help of this feature, if your customers fail to pay for any reason, the system will wait for the customer for the period of time you choose and the time slot chosen by the customer will be kept for him/her. If the customer cannot make the payment within this period, this time slot will be free again and other customers will be able to make appointments for this time slot.
Customer can pay full amount
With the deposit payments feature, your customers can book for the services you want by only paying the deposit fee. However, if you activate this option, your customers can pay the full service fee in addition to the deposit fee if they wish.
Payment methods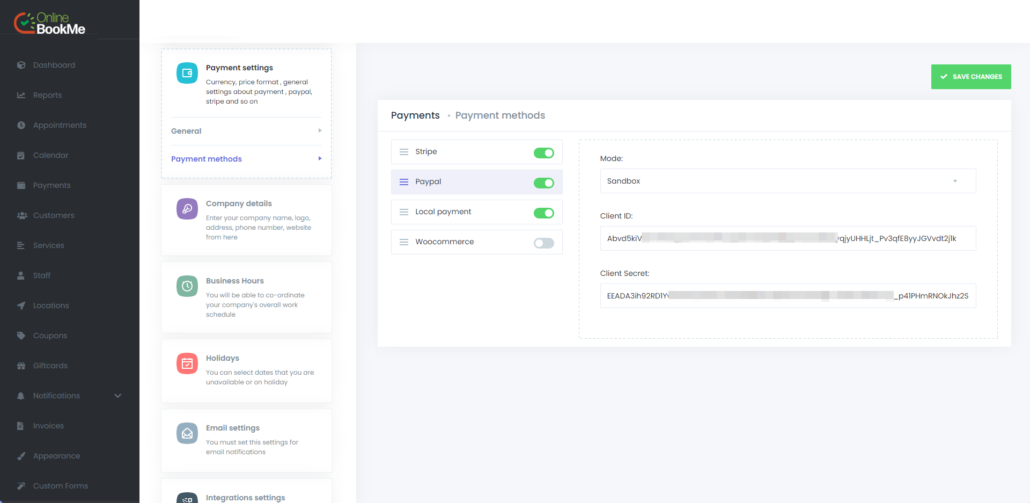 Stripe
If you disable this setting then customers won't see Stripe choice when booking. Otherwise, if you activate this choice you must create a new App on your Stripe account.

To create an App, you can get information Stripe Documentation for Building Extensions:
Enter Publishable key you create App and the Secret key to appropriate areas in these settings.
The currency you choose in Settings -> Payments must be supported from the Stripe server!
PayPal
If you disable this setting then customers won't see Paypal choice when booking. Otherwise, if you activate this choice you must create a new App on your Paypal account. You can create a new Paypal app by visiting PayPal application page
Enter client ID of your creating App and the client's secret to appropriate areas in these settings.
Try and save Sandbox from Mode if you want to test the Paypal processing engine. After the test, you can change the Sandbox mode to Live mode.
The currency you choose in Settings -> Payments must be supported by Paypal!
Local payment
It is a payment method that does not require any online payment among payment methods. If you use this payment method, your customers will be able to make appointments without making any payments. If you want to receive appointment payments from your customers when they come to your business, this method will be suitable for you.
WooCommerce
One of the most used payment methods is WooCommerce. This is because it contains thousands of payment gateways. If for some reason you don't want to use PayPal and Stripe, the Woocommerce payment method is for you. You can install and use any payment gateway supported by Woocommerce.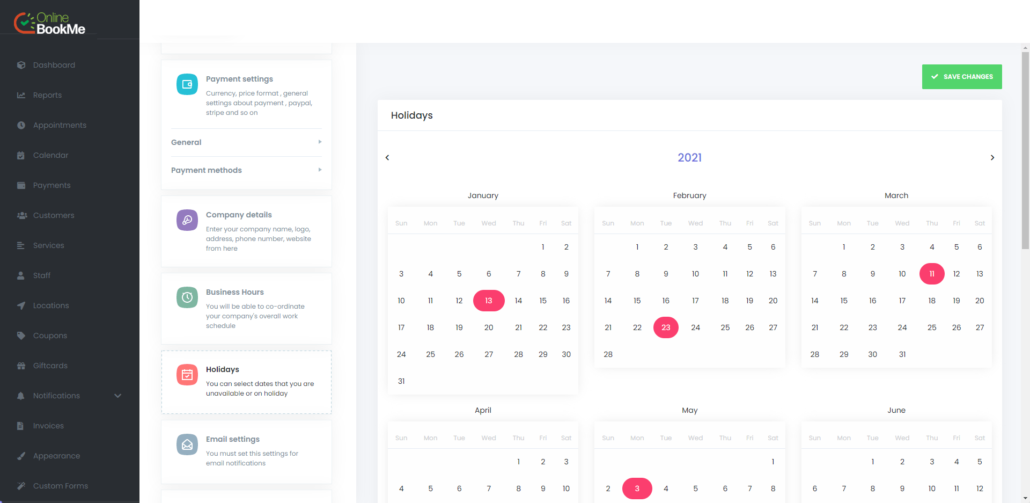 You can display holidays on built-in calendar. The holidays you choose here are general. If any employees in your company will work on holidays, you can show on the window "Add staff".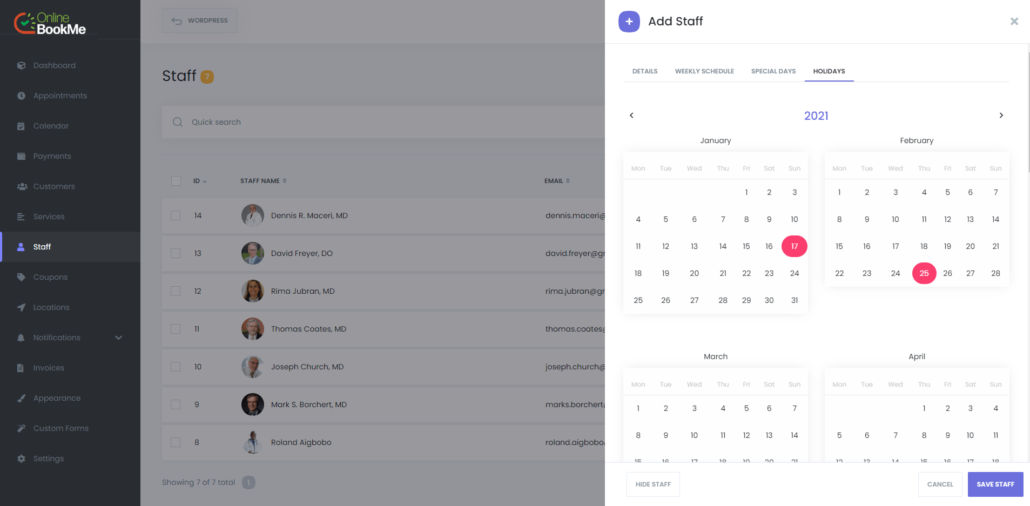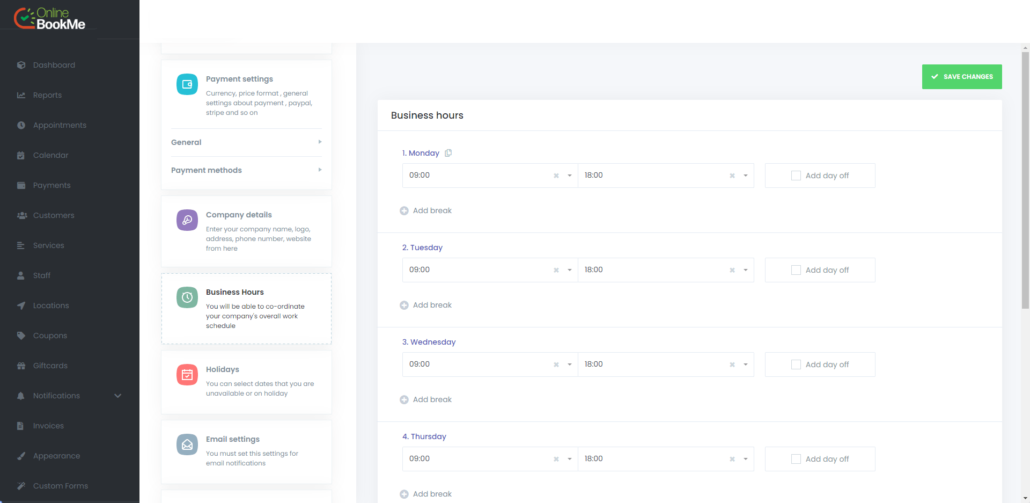 You can set a timesheet for your business hours. You can show your opening and closing hours for each day of the week. You can add breaks on each days. You can enable day-offs by activating the "day off" checkbox. The timesheet you set up here is general. You can choose a specific timesheet for each service or staff member while adding services and staff.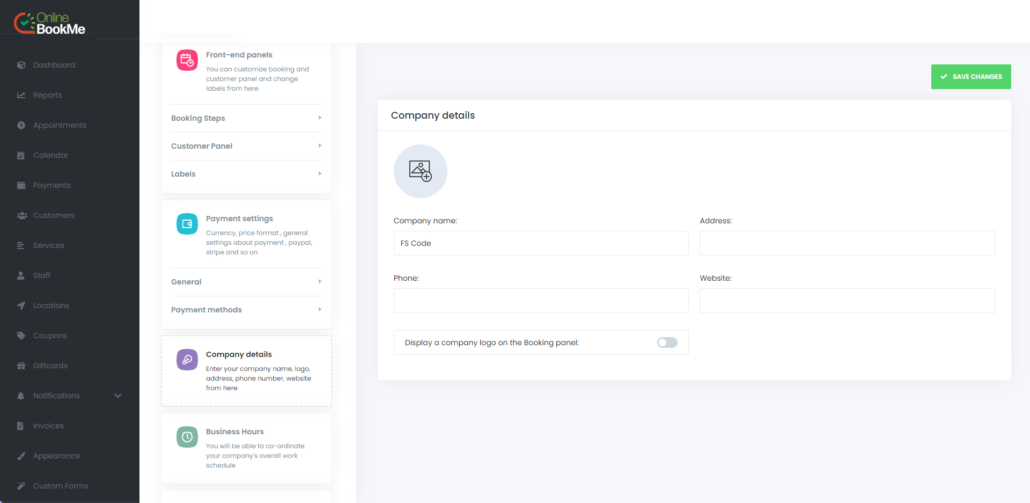 In these settings, you will fill out basic information to fill regarding your company.
Logo
Company Name
Address
Phone number
Website
This information will be useful for you on email notifications. So, you can add this information to your email template with specific keywords. If phone number of your company is filled out, it will be displayed on "Have questions?" Section in the front-end booking footer section.
If you activate the "Display a company logo on the booking panel" option, your logo will appear on the booking panel.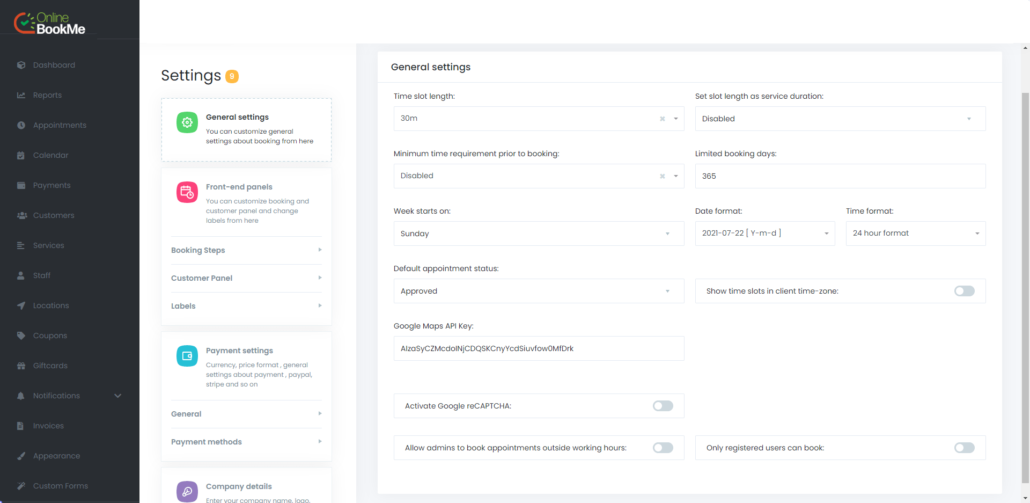 Time slot length
With this option you can set the default length of the time slot. We want to briefly summarize what this option means:
Imagine you chose time slot length 30 minutes. This means that when customers make a new booking, they will see times up to 30 minutes, for example: 10:30am, 11:00am, 11:30am, 12:00pm, 12:30pm, etc.
This value is default value. You can refer to the default value when you add the Service or select the individual Time slot.
Default value: 5 minutes.
Set slot length as service duration
If you activate this option, Time slot length option will override. As a result slot length will be equal to the duration of the service. For instance, if the duration of the service is 1 hour, when customers make a booking, they will see time at 1 hour interval: 10:00am, 11:00am, 12:00pm, 13:00pm, etc.
Default value: Disabled.
Minimum time requirement prior to booking
With this option you can appropriate that your customers can make a booking at least a few days in advance. For instance, you want your customers to book before minimum 1 day. In this case you will select 1 day in this option. If this option is not needed, just disable it.
Default value: Disabled.
Limited booking days
With this option you can choose how long your customers can book later. For instance, typing in 90 days, you'll be able to make sure that your customers can't add booking after 90 days.

Default value: 365 days.
Week starts on
In some countries, the week starts on Sunday, in some countries, on Monday. You can change which day of the week starts on your calendar according to your country and your choice.
Date format
The date format also varies by country. You can set the date format according to your choice.
Time format
You can set the time format to be 24 hours or 12 hours.
Default appointment status
When customer add a new booking, you can show here what will be default value. If you need managers to confirm it and specify issue after your customers make a booking, in this option you can select Pending status. As a result when customer adds a new booking, it will run into Dashboard. And after the manager specifies details, that appointment will be approved or rejected.
Default value: Approved.
Show time slots in client time-zone
When you use this feature, your customers will see your working hours according to their timezone. This feature allows you to do global service.
Activate Google reCAPTCHA
Most of the Booking Appointment users complain about spam appointments. If their service is free or demands in-office payment, it causes big problems such as spam appointments. Thanks to the Google ReCaptcha feature, such cases are not a problem anymore. By activating Google ReCAPTCHA, OnlineBookMe users will have a chance to avoid spam appointments
Allow admins to book appointments outside working hours
If you activate this feature, you can create an appointment for any date you want outside of your working hours while creating a manual appointment in your admin panel.
Only registered users can book
When this feature is turned on, users who do not log in to your site cannot view or use your booking panel. When they enter the page with your Booking panel, they are directed to the login page.
Hiding Steps On Customer Appointment Form
OnlineBookMe.com booking form allows you to reorder or hide steps easily according to your business. OnlineBookMe.com panel is designed to be useful for any type of business. In some cases, you would like not to use some of the features we offer you.
For example, you only have one staff member and you find the ability to choose staff in your booking panel unnecessary. So you can turn off the staff selection feature in order to provide customers less steps.
The same can be used when there is only one location. By deactivating the location feature, you will avoid wasting unnecessary time and you will have a more aesthetic booking panel.
To do that, go to Settings > Front-end panels > Booking Steps to make your changes.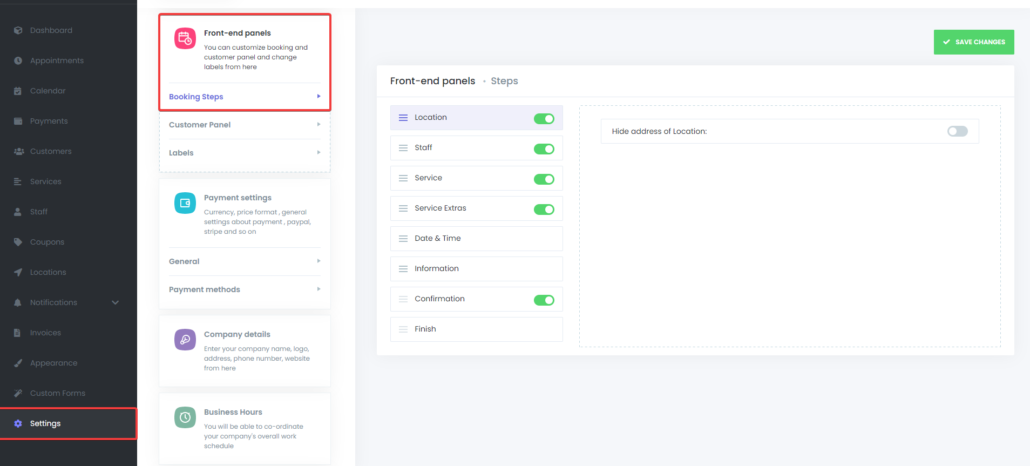 Reorder the Steps
You can not only close and open the steps in the OnlineBookMe.com panel, but also sort them in the order you want. Through this ordering, you can set which step will come first and which step will come next.
For this, you can create the order you want by catching the move icon and pulling it up or down.