Visual translator is a feature to translate the Booking panel.
To do this, first go to the Settings section of your admin panel. In the Settings screen, you need to enter the Front-end panels section and select Labels from there.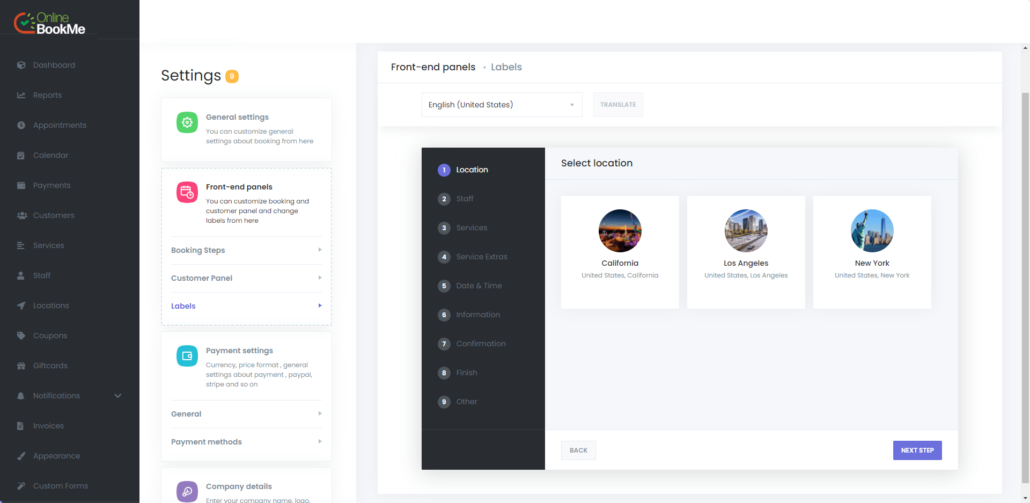 To start the translation process, there is a language selection list that can be chosen for translation. You select the language you need from the list and click the Translate button.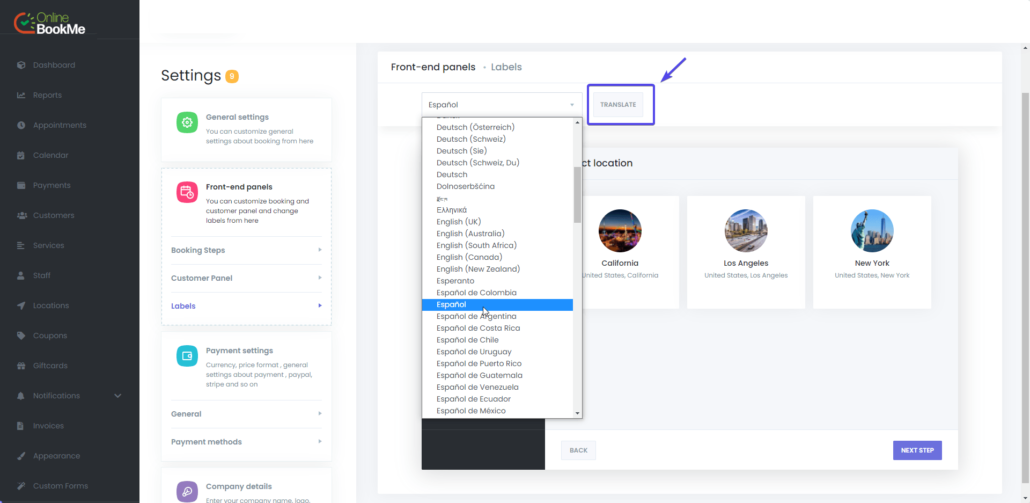 After choosing this, we will see the view on appointment panel for customers.
With our service, you can design your front-end booking panel to suit your business colours in any way you like. There are 7 styles available: Default, Brown, Red, Green, Blue, Purple, Pink. You can choose one of the styles you want, or you can create a new template with any colour. Simply select and click on the CHOOSE button in front of the panel to change the look of the panel.
Click on the Create new style box below to add a new Style.
You will see the default colours in the popup panel.
First give the name of the style you want to create.
Then you can create the appropriate style for your business site by changing the appropriate colours. As the colours change, you can visually see how the panel looks on the right side, so you can create the style you want with WYSIWYG editor.
Once you have set the colours, you will be able to override your style by clicking on the SAVE button. Then you can find the style you have created in the list and click on the CHOSE button.
Simply click on that style in the list to edit styles.
To delete Style, find the style in the list and click on it. In the Edit pane, click down the DELETE button and you'll find style.
Note! If the style you want to delete is the style that currently selected, you cannot delete it. Change the style you selected first, then try deleting it….
With the OnlineBookMe.com, you can customize your custom fields for your business needs by using the multi-function Form Builder with your Front-end booking panel. You can design different forms at the same time and select each form for different services. Click the CREATE NEW FORM button in the Custom forms menu to create a new form.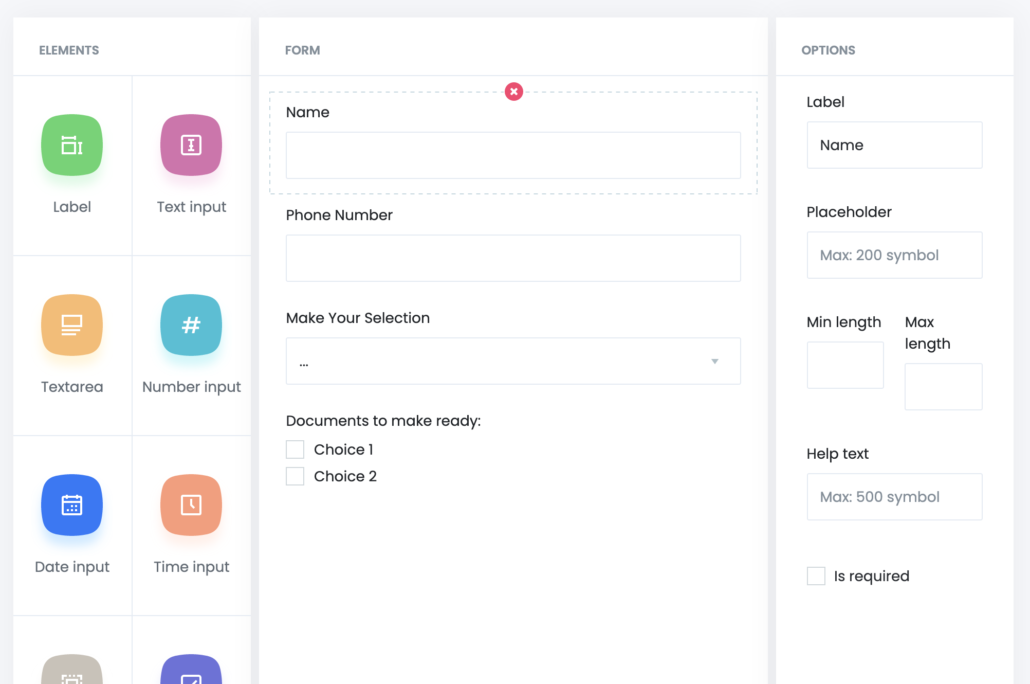 For the first time in the open panel, you need to name the form in the upper section and look at what services this form belongs to right away. Then you can build the form with the form builder tool. In the left pane you can see the types of fields that you can use in the form.
The following types are supported:
| | |
| --- | --- |
| Label | Any label that is desired in your form will not be added to this field. No functionality will be available. You can just add labels of a data character. |
| Text input | Use this field to override the text input form |
| Text area | You can use this field if you want to add long text to your text form. |
| Number input | You can use this field to override your file form to receive regimen-type information. |
| Date input | If you want to add a date input to your form, you can use this field. |
| Time input | If you want to add a time input to your form, you can use this field. |
| Select | You can use the for field to add a select type input. |
| Checkboxes | Use field for adding multi-selection checkboxes. |
| Radio buttons | If you want to use radio buttons, you can use this field. |
| File | If you want to overwrite file upload files, you can use this field. |
| Link | If you try to add a form link, you can use this field. It does not have functionality, you can just add links to the content. |
Adding fields to your form is very simple. With the drag & drop function you can grab an item and drag it to the desired shape.
Once you add an item to a form, you can change its options to the right. For example, you can specify the label of the item, placeholder, help text, from these options. By changing the options you can visually change the look of your form.
After you have added the fields you need together with the options, you can restore the form by clicking on the SAVE FORM button.
When you want to delete or edit a form, you can click on the options in front of it and click on the Edit or Delete button accordingly.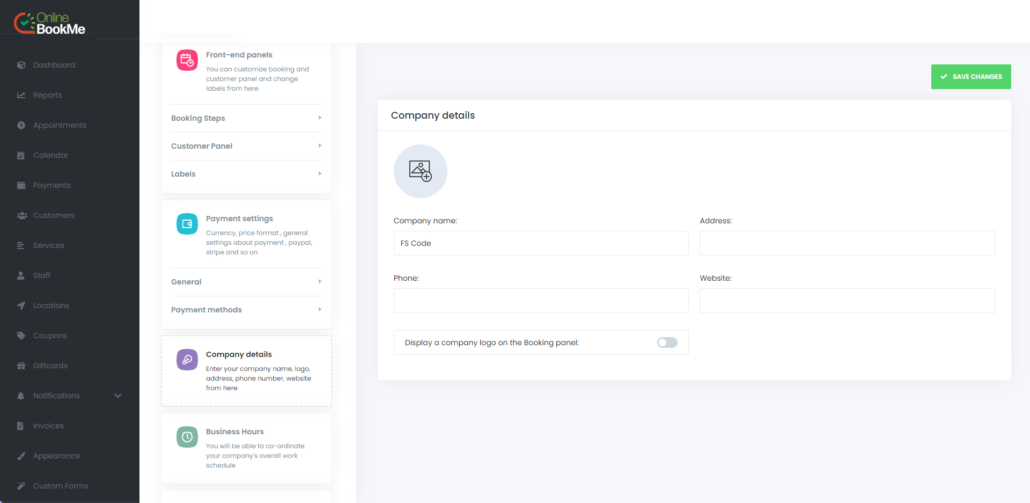 In these settings, you will fill out basic information to fill regarding your company.
Logo
Company Name
Address
Phone number
Website
This information will be useful for you on email notifications. So, you can add this information to your email template with specific keywords. If phone number of your company is filled out, it will be displayed on "Have questions?" Section in the front-end booking footer section.
If you activate the "Display a company logo on the booking panel" option, your logo will appear on the booking panel.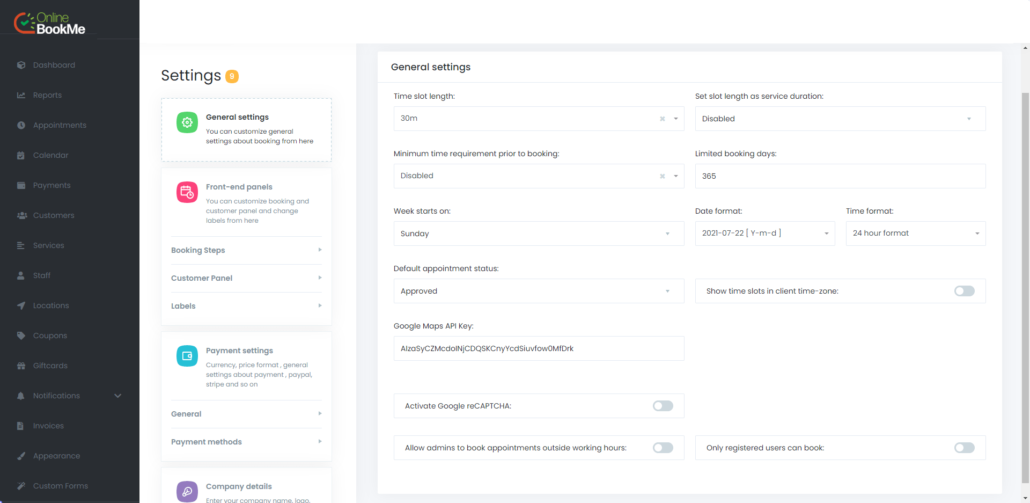 Time slot length
With this option you can set the default length of the time slot. We want to briefly summarize what this option means:
Imagine you chose time slot length 30 minutes. This means that when customers make a new booking, they will see times up to 30 minutes, for example: 10:30am, 11:00am, 11:30am, 12:00pm, 12:30pm, etc.
This value is default value. You can refer to the default value when you add the Service or select the individual Time slot.
Default value: 5 minutes.
Set slot length as service duration
If you activate this option, Time slot length option will override. As a result slot length will be equal to the duration of the service. For instance, if the duration of the service is 1 hour, when customers make a booking, they will see time at 1 hour interval: 10:00am, 11:00am, 12:00pm, 13:00pm, etc.
Default value: Disabled.
Minimum time requirement prior to booking
With this option you can appropriate that your customers can make a booking at least a few days in advance. For instance, you want your customers to book before minimum 1 day. In this case you will select 1 day in this option. If this option is not needed, just disable it.
Default value: Disabled.
Limited booking days
With this option you can choose how long your customers can book later. For instance, typing in 90 days, you'll be able to make sure that your customers can't add booking after 90 days.

Default value: 365 days.
Week starts on
In some countries, the week starts on Sunday, in some countries, on Monday. You can change which day of the week starts on your calendar according to your country and your choice.
Date format
The date format also varies by country. You can set the date format according to your choice.
Time format
You can set the time format to be 24 hours or 12 hours.
Default appointment status
When customer add a new booking, you can show here what will be default value. If you need managers to confirm it and specify issue after your customers make a booking, in this option you can select Pending status. As a result when customer adds a new booking, it will run into Dashboard. And after the manager specifies details, that appointment will be approved or rejected.
Default value: Approved.
Show time slots in client time-zone
When you use this feature, your customers will see your working hours according to their timezone. This feature allows you to do global service.
Activate Google reCAPTCHA
Most of the Booking Appointment users complain about spam appointments. If their service is free or demands in-office payment, it causes big problems such as spam appointments. Thanks to the Google ReCaptcha feature, such cases are not a problem anymore. By activating Google ReCAPTCHA, OnlineBookMe users will have a chance to avoid spam appointments
Allow admins to book appointments outside working hours
If you activate this feature, you can create an appointment for any date you want outside of your working hours while creating a manual appointment in your admin panel.
Only registered users can book
When this feature is turned on, users who do not log in to your site cannot view or use your booking panel. When they enter the page with your Booking panel, they are directed to the login page.
OnlineBookMe.com is a booking solution with Group Appointments feature. If the service is a group service, more than one customer can make an appointment for the same time slot. If your customers do not want to come alone and want to bring someone else with them, they do not need to make a separate appointment for each person he brings. Because with the newly added "Bring people with you" feature, your customer can choose how many people to bring with him.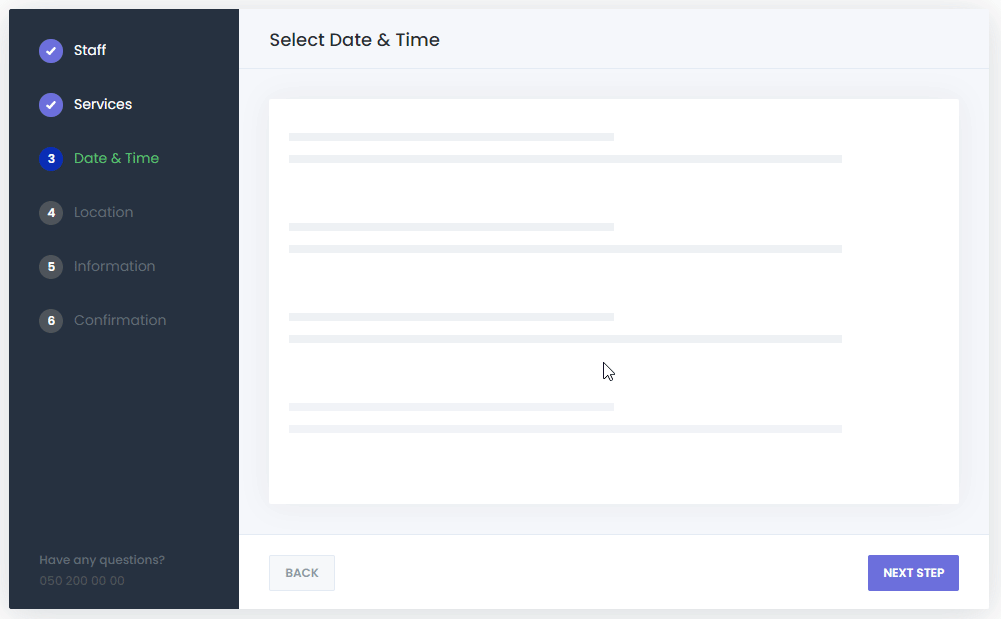 For this option to be active, you must first set your service capacity as Group. You can also specify the minimum/maximum number of people your time slots are suitable for.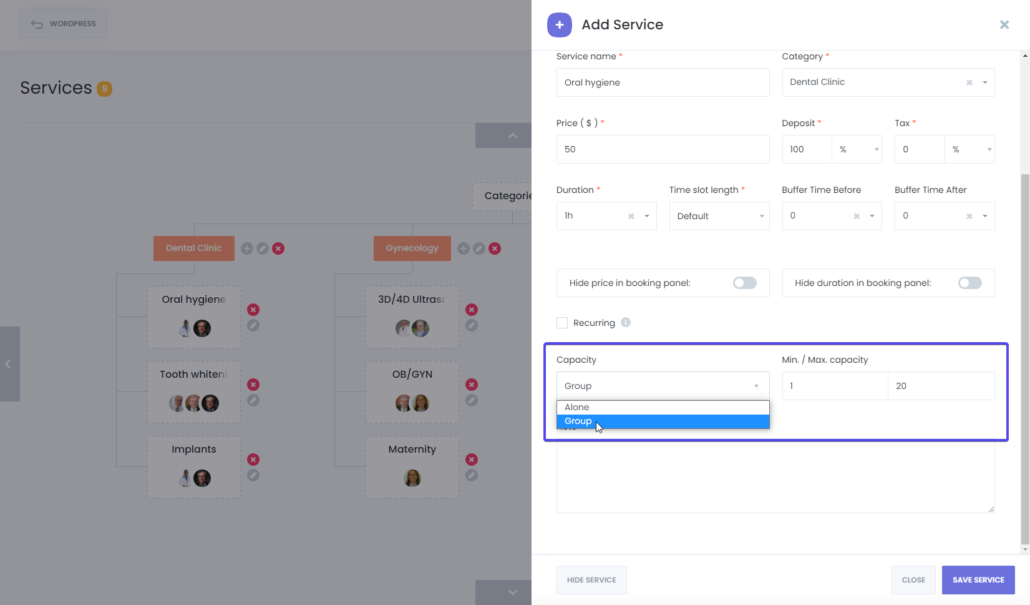 While expanding business networks need a more complex management style, automation of business processes may seem like a difficult process. Fortunately, thanks to the multiple location management features of the our Appointment Booking solution, this process is no longer a problem for our users.
What are the important factors at multiple location management for business?
The key to multiple location management is to ensure that information is shared across the entire company simultaneously. It means that no-one is behind on important information and also creates a sense of community. Technology can help as it allows immediate, widespread communication. Businesses must ensure that there is one main method of digital communication, as too many half or underused initiatives quickly become difficult to manage effectively. Commit to communicating effectively and (relatively) frequently through one tool. For example, you send a brief weekly schedule of all staff. It can be especially tricky to work overtime zones so my advice would be to always remember to send official communications out at times when all the offices are open.
Multiple Location feature of OnlineBookMe.com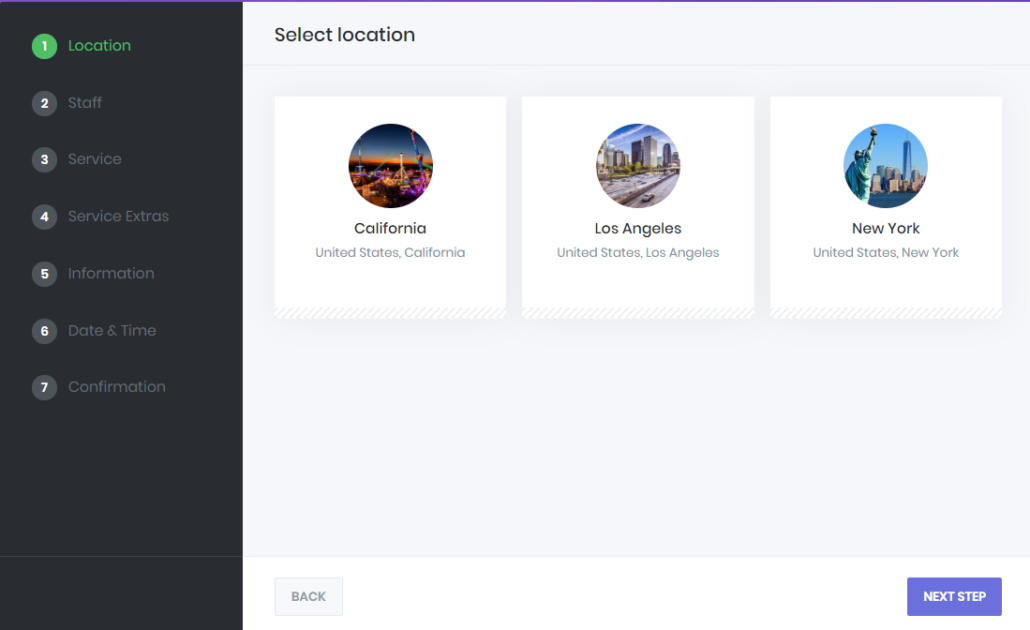 With our Multiple Location feature, you will able to manage many branches for your business. This means that each location will be properly mapped, clients will get notifications that are specific to the location they booked.
Thanks to the multiple locations feature, you can add different staff and services to each location. When your customers make an appointment from the system, they can request an appointment from your closest branch.
After that, they can choose the staff serving at their chosen location and request an appointment based on the service they want to receive from that person.
So how can you set this feature?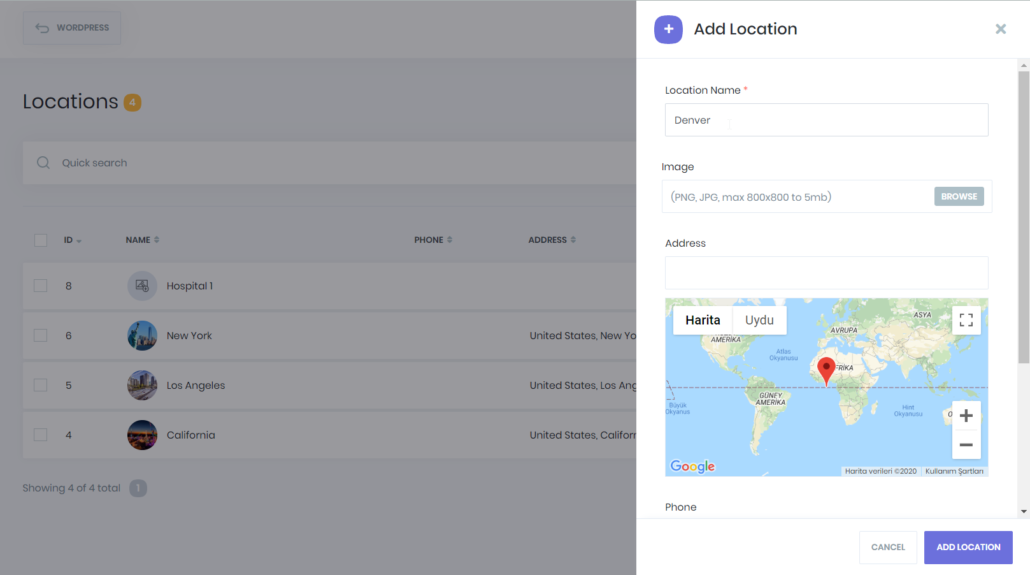 Like every feature in the OnlineBookMe.com, it is very easy to make this feature work properly. Just go to the back-end panel and add a new location. Also, if you select location while entering your staff information.
Although appearance, design, and color selection seem ordinary, they have crucial importance for every business. Taking into account this factor, our Appointment Booking Solution offers a wide selection of colour choices for our users.
Why Colours Are Important?
Red, Blue, Yellow, Green, colors may just be part of the basics but for businesses– they stand an important role.
Color is very important in branding and marketing because it is where the first reactions of customers are based. Also, colour is the secret in producing a good commercial identity for a company. Colours are more than just visual attention because colours communicate with emotions, feelings, and experiences. There are meanings behind various colours and for companies, it will help if they are abreast of this because choosing a colour scheme can affect their business – it may either make or break them.
Each company attaches importance to choosing the right look and color for the right communication with its customers. Choosing the right colour will make an important contribution to your business, and wrong color tones can be harmful.
It also has great importance in integrity in color choices. Although your site design and brand colors are in harmony, if the plugin you use is in a completely different color, this may not look good.
Choose your Appearance: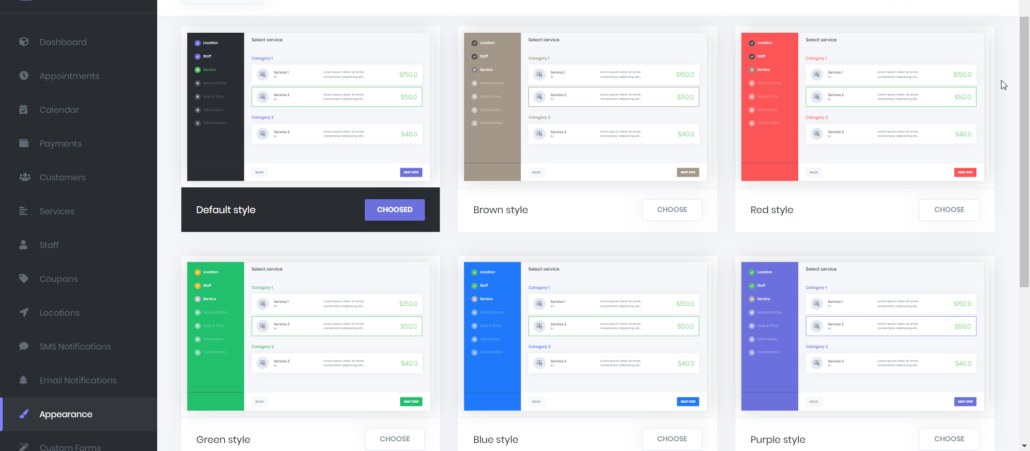 With all this in mind, our Appointment Booking Service has a fully editable interface. By going to the appearance settings, you can choose the one you like from many different themes.
Create your style: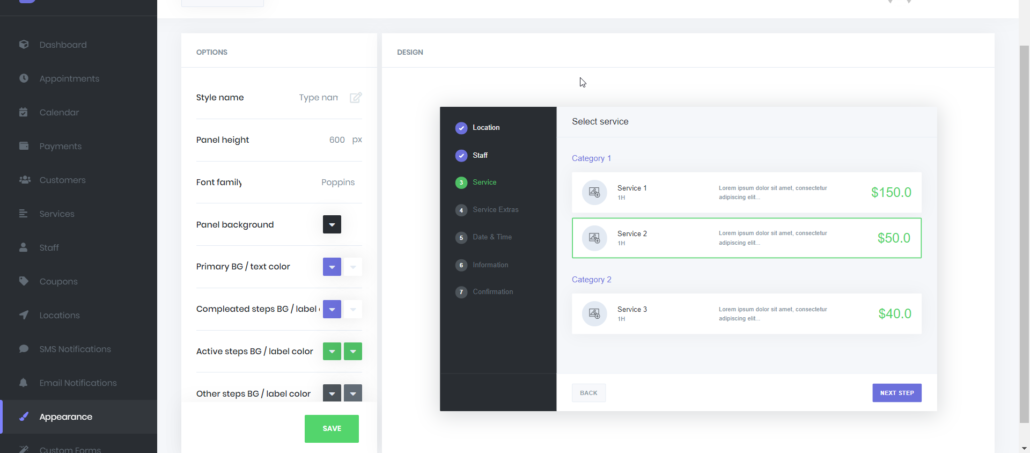 Also, you don't have to make do with these colours. If you want, you can create your theme and design the Appointment Booking Form from the very beginning following your brand design. Moreover, the editing option is not limited to colours. Many features, from panel height to fonts, are set up to be edited for you.
Do you need to sell extra service products during your client booking? OnlineBookMe.com lets you advertise and sell your products, related to the service that the client is booking, during the booking process. Such a feature increases your total sales, simplifies your check-out and allows you to concentrate on servicing the client instead of product sales. It is not only easier for you to promote products this way but it also makes the service way more enjoyable when the payments are already out of the way!
With this feature, you can let your clients choose some extra service upon booking. This could be like to let them add that medicines or self-care products, that can be helpful for their health or that can increase the effectiveness of the self-care service that you gave them. Extra Services feature will boost your sales 10-20% without raising any prices at your service.
How to set up the Extra Service feature?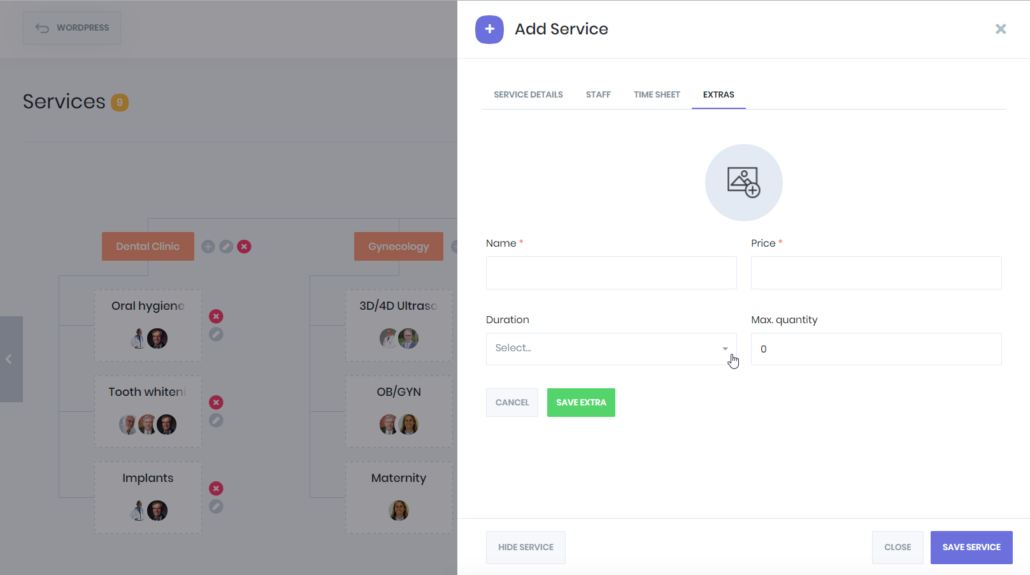 As we mentioned, the installation and operation of each feature have been designed with customer convenience in mind. For setting up the feature, we need to go to service settings and select the service that we want to activate the extra service for. After choosing the service, the extra service section will appear. In this section, we enter the extra service features. Our extra service may be another service or a product. After saving all the changes and settings, this feature is ready to work.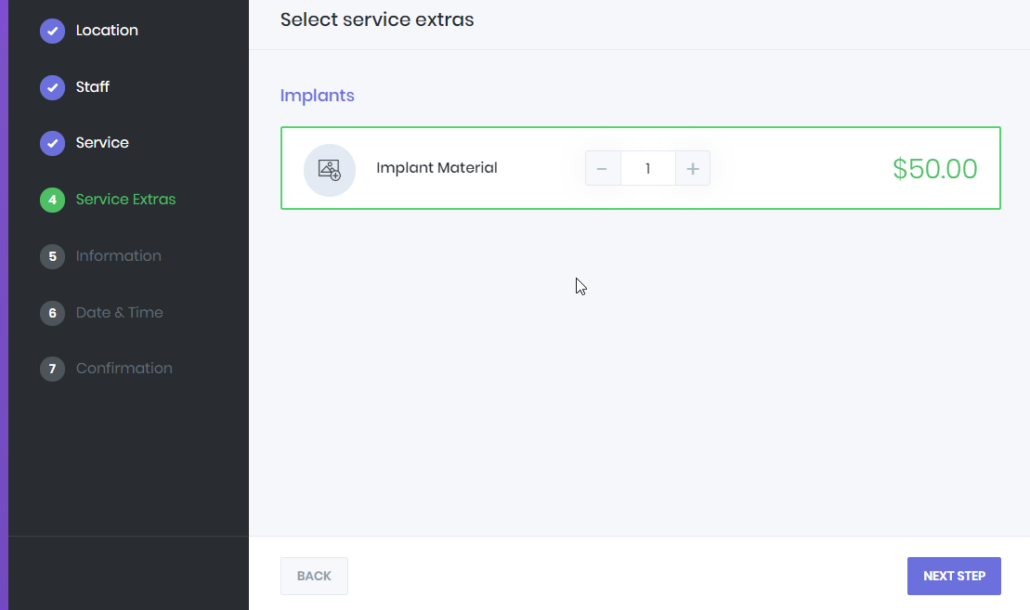 In this way, your customers can select the service specified during their appointment, and choose the newly added extra service in the extra service section. At the end of the booking process, they can make a purchase for both of them.
Although OnlineBookMe.com is designed for all businesses, very specific forms may be required in some business processes. For example, you can ask your customers to fill special fields before coming to the appointment. Or you can ask your customer to upload a special document to the system before arranging an appointment. Maybe you can request that the link to social media accounts. Or you can ask them to fill out a short test before the appointment.
OnlineBookMe.com has developed Form Builder to solve such problems. Moreover, you don't need to know any code or HTML for building such custom forms. With our tool, you can customize your custom fields for your business by using the multi-function Form Builder for your Front-end booking panel. You can look at different forms at the same time and select each form for different services.
With its Label, Text Input, Text area, Number input, Date input, Time input, select list, CheckBox, Radio buttons, File Upload and Link fields you can create any type of form you want at your Booking Panel. You can make fields required or you can leave them as optional. All you need just do some drag and drop jobs and that is all!
You can reach Form Builder from Custom Forms tab from the back-end panel of your OnlineBookMe.com Dashboard. You can also choose which service to use for the form you create on this tab.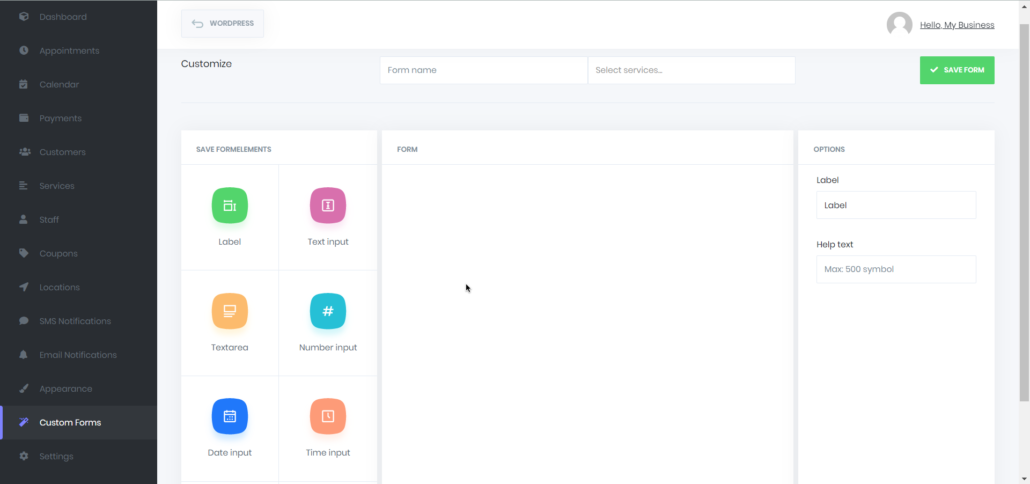 After finishing and saving form you can display your form the Information part of the front-end interface of OnlineBookMe.com Appointment Service. After the customer completes the appointment, the form will come to your system with other information. In this way, you can customize your Booking Panel as you wish and request unlimited information from your customers.