With an up-to-date interface and informative calendar, you can see your employees' work shift.
Whether you choose a monthly schedule or choose a weekly schedule, you can look at the daily schedule. You can also view appointments in the list view through the List view if you want. You can filter appointments based on location, services and staff.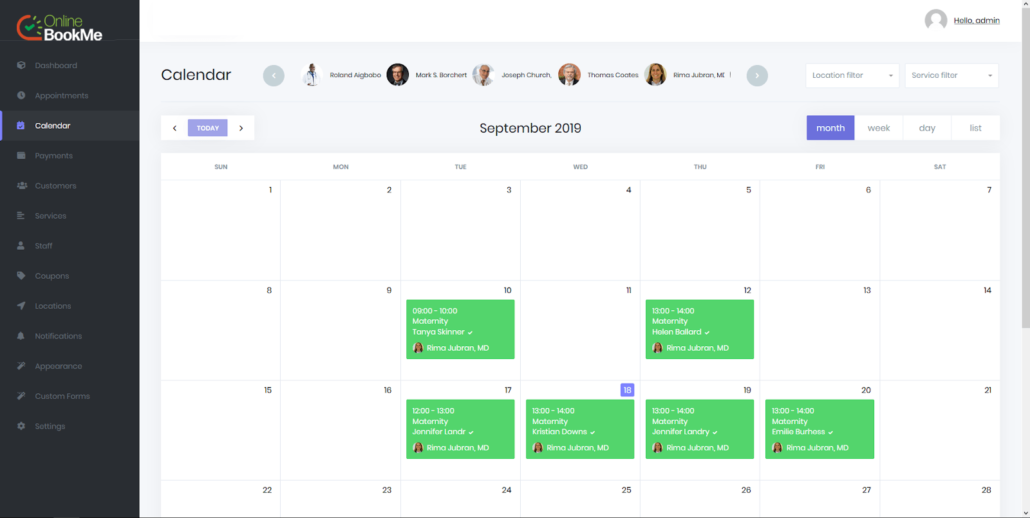 With our service, you can design your front-end booking panel to suit your business colours in any way you like. There are 7 styles available: Default, Brown, Red, Green, Blue, Purple, Pink. You can choose one of the styles you want, or you can create a new template with any colour. Simply select and click on the CHOOSE button in front of the panel to change the look of the panel.
Click on the Create new style box below to add a new Style.
You will see the default colours in the popup panel.
First give the name of the style you want to create.
Then you can create the appropriate style for your business site by changing the appropriate colours. As the colours change, you can visually see how the panel looks on the right side, so you can create the style you want with WYSIWYG editor.
Once you have set the colours, you will be able to override your style by clicking on the SAVE button. Then you can find the style you have created in the list and click on the CHOSE button.
Simply click on that style in the list to edit styles.
To delete Style, find the style in the list and click on it. In the Edit pane, click down the DELETE button and you'll find style.
Note! If the style you want to delete is the style that currently selected, you cannot delete it. Change the style you selected first, then try deleting it….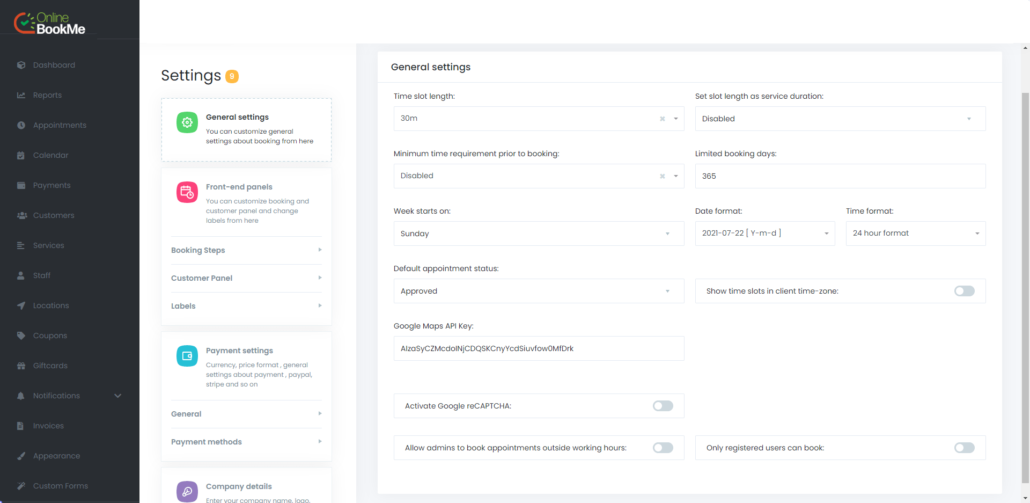 Time slot length
With this option you can set the default length of the time slot. We want to briefly summarize what this option means:
Imagine you chose time slot length 30 minutes. This means that when customers make a new booking, they will see times up to 30 minutes, for example: 10:30am, 11:00am, 11:30am, 12:00pm, 12:30pm, etc.
This value is default value. You can refer to the default value when you add the Service or select the individual Time slot.
Default value: 5 minutes.
Set slot length as service duration
If you activate this option, Time slot length option will override. As a result slot length will be equal to the duration of the service. For instance, if the duration of the service is 1 hour, when customers make a booking, they will see time at 1 hour interval: 10:00am, 11:00am, 12:00pm, 13:00pm, etc.
Default value: Disabled.
Minimum time requirement prior to booking
With this option you can appropriate that your customers can make a booking at least a few days in advance. For instance, you want your customers to book before minimum 1 day. In this case you will select 1 day in this option. If this option is not needed, just disable it.
Default value: Disabled.
Limited booking days
With this option you can choose how long your customers can book later. For instance, typing in 90 days, you'll be able to make sure that your customers can't add booking after 90 days.

Default value: 365 days.
Week starts on
In some countries, the week starts on Sunday, in some countries, on Monday. You can change which day of the week starts on your calendar according to your country and your choice.
Date format
The date format also varies by country. You can set the date format according to your choice.
Time format
You can set the time format to be 24 hours or 12 hours.
Default appointment status
When customer add a new booking, you can show here what will be default value. If you need managers to confirm it and specify issue after your customers make a booking, in this option you can select Pending status. As a result when customer adds a new booking, it will run into Dashboard. And after the manager specifies details, that appointment will be approved or rejected.
Default value: Approved.
Show time slots in client time-zone
When you use this feature, your customers will see your working hours according to their timezone. This feature allows you to do global service.
Activate Google reCAPTCHA
Most of the Booking Appointment users complain about spam appointments. If their service is free or demands in-office payment, it causes big problems such as spam appointments. Thanks to the Google ReCaptcha feature, such cases are not a problem anymore. By activating Google ReCAPTCHA, OnlineBookMe users will have a chance to avoid spam appointments
Allow admins to book appointments outside working hours
If you activate this feature, you can create an appointment for any date you want outside of your working hours while creating a manual appointment in your admin panel.
Only registered users can book
When this feature is turned on, users who do not log in to your site cannot view or use your booking panel. When they enter the page with your Booking panel, they are directed to the login page.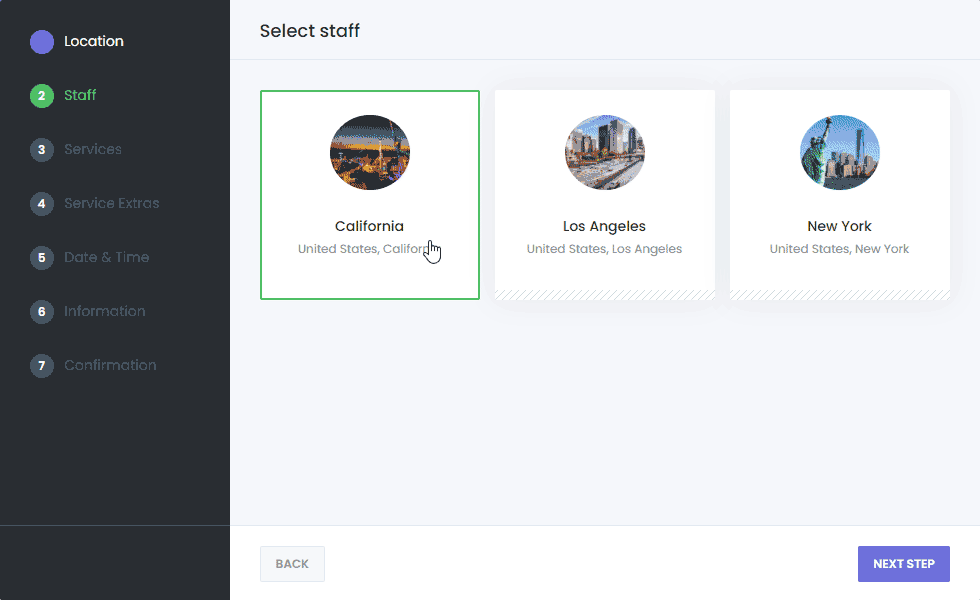 OnlineBookMe.com is a cloud based appointment booking system that you can use as stand-alone or by embedding to your website.
With our Tools, you will 100% automate your business.
Our booking system will save you from redundant resources, time-wasting and other risks, your customer base will be collected and your business will be open 7/24 to your customers.

OnlineBookMe.com requires no programming to setup, has a modern UI / UX interface and is ideal for booking of any kind of appointments. With customizable templates, form-builder, multiple category level, and many other features, you can fully customize your booking system for your business.
OnlineBookMe.com is a booking solution with Group Appointments feature. If the service is a group service, more than one customer can make an appointment for the same time slot. If your customers do not want to come alone and want to bring someone else with them, they do not need to make a separate appointment for each person he brings. Because with the newly added "Bring people with you" feature, your customer can choose how many people to bring with him.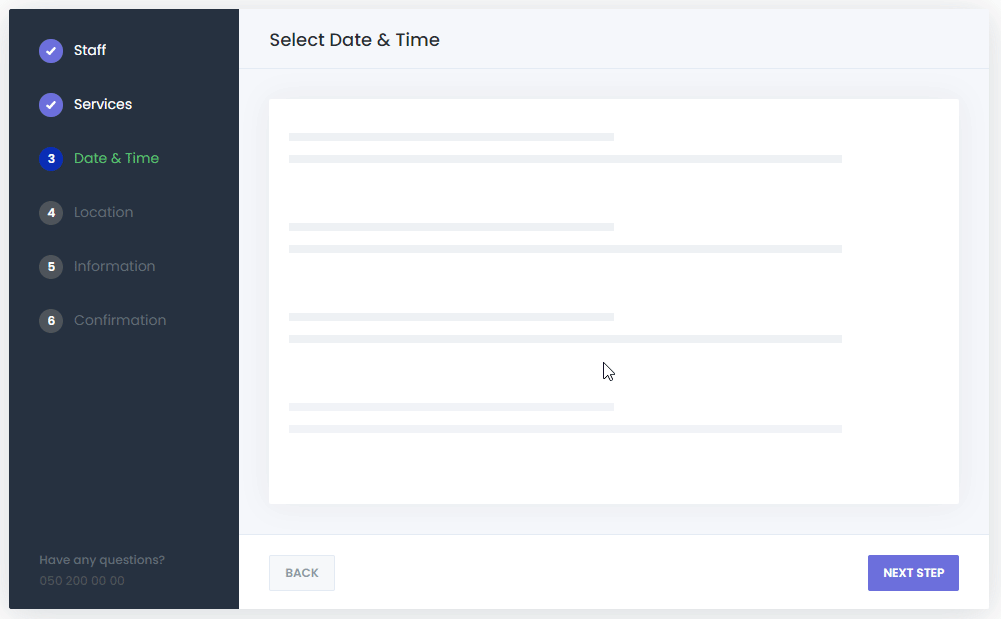 For this option to be active, you must first set your service capacity as Group. You can also specify the minimum/maximum number of people your time slots are suitable for.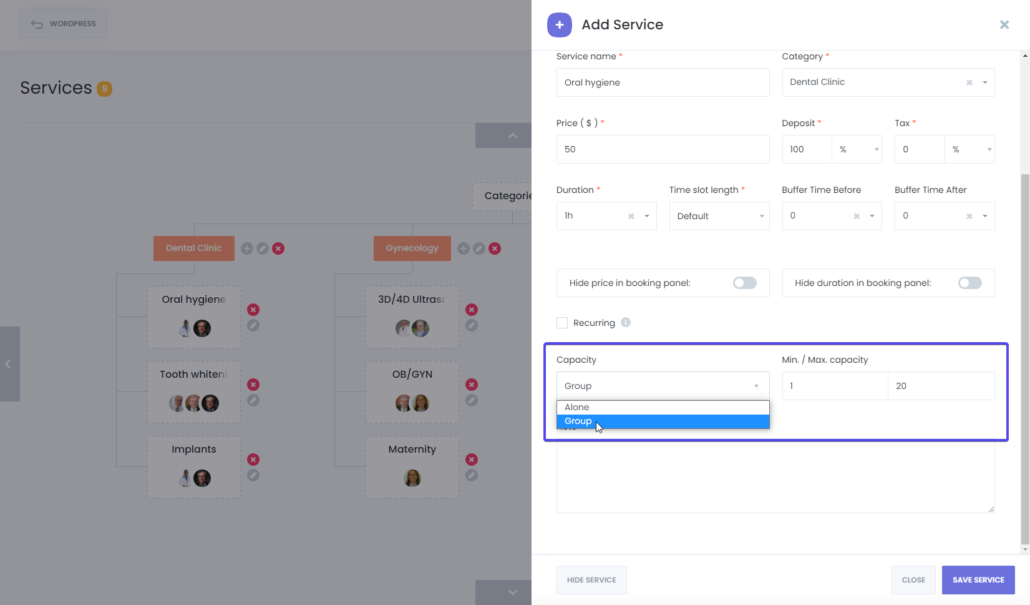 You can create Giftcards and present them to your customers through OnlineBookMe.com. The Giftcard you have created will correspond to a certain amount, and if the customer uses this giftcard while creating an appointment, the money paid will be out of the gift card balance.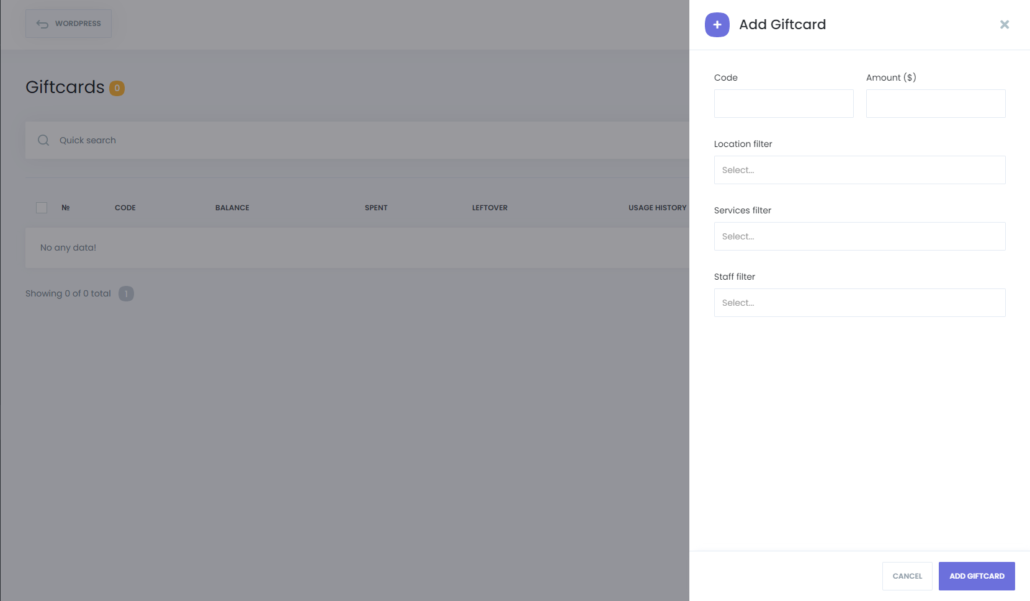 Code: The code you set here will be the Giftcard code. You have to present this code to only one customer. If the customer uses this code, the service fee will be charged from the balance of this Giftcard.
Amount: The amount you set here will be the balance of the Giftcard.
Location filter: If you choose a specific location here, this Giftcard will only be available for services in that location.
Services filter: If you choose a specific service here, this Giftcard will only be available for this service.
Staff filter: If you choose a specific staff here, this Giftcard will only be available for the services of this staff.
One of the most important aspects of our software is its Dashboard. All actions to be taken by the business owner are done through the Dashboard. So the more user-friendly the Dashboard is, the better it will be to use.
Our dashboard is both insightful and user-friendly. With the our dashboard, you can easily do all the operations.
Everything is designed for the convenience of the users.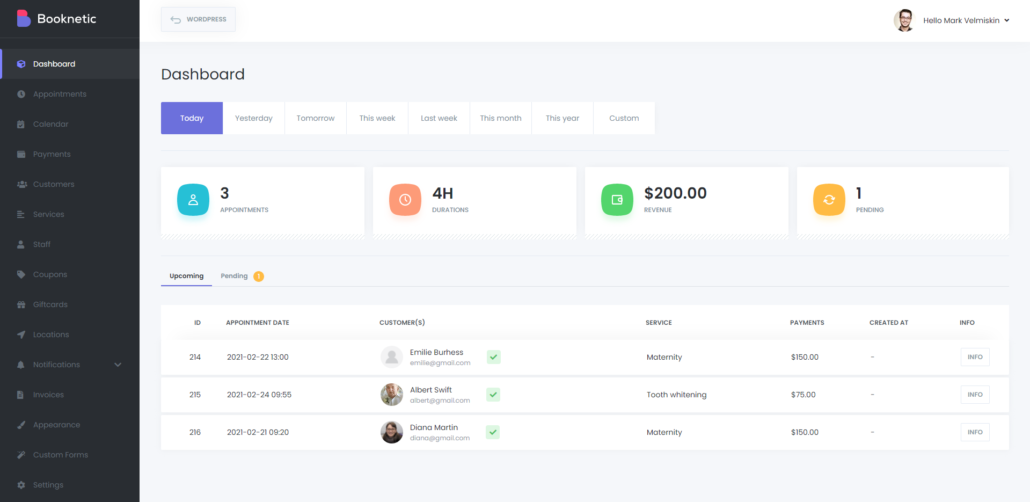 What does our dashboard bring you?
With the help of our useful dashboard, you can easily make your daily, weekly, monthly, and annual analysis. You can easily reach information about how many appointments you have for the time period you have chosen, how many hours these appointments are, and how much they have earned.
In addition, upcoming appointments and pending appointments are also on our dashboard.
Working is the most important thing in this life, and every person should work and benefit society. But everyone also needs rest. With this feature, you can set certain hours of the day or certain days of the week as a non-working time. For example, you can set aside for 1 hour of meals a day and you can set a break time by using this feature so that this mealtime is not visible to your customers on the booking panel.
How to set up Breaks?
If you come to the Time sheets section in the service settings, you can set your weekly working hours for that service. Within the scope of working hours, you can set the hours you want as break hours. When the customer makes a booking, the hours you choose as break hours will not appear on the booking panel.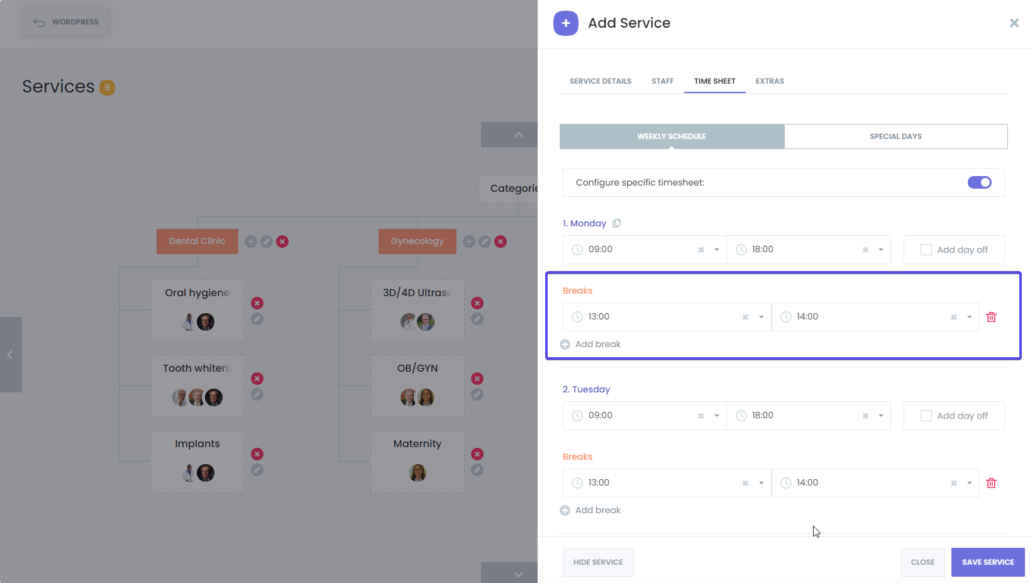 How to Set Day offs?
Some days may be your day off, so you may not want to work that day. You can use this feature to hide these days in the booking panel. You make the day you want on the day of the week, so those days appear busy on the booking panel.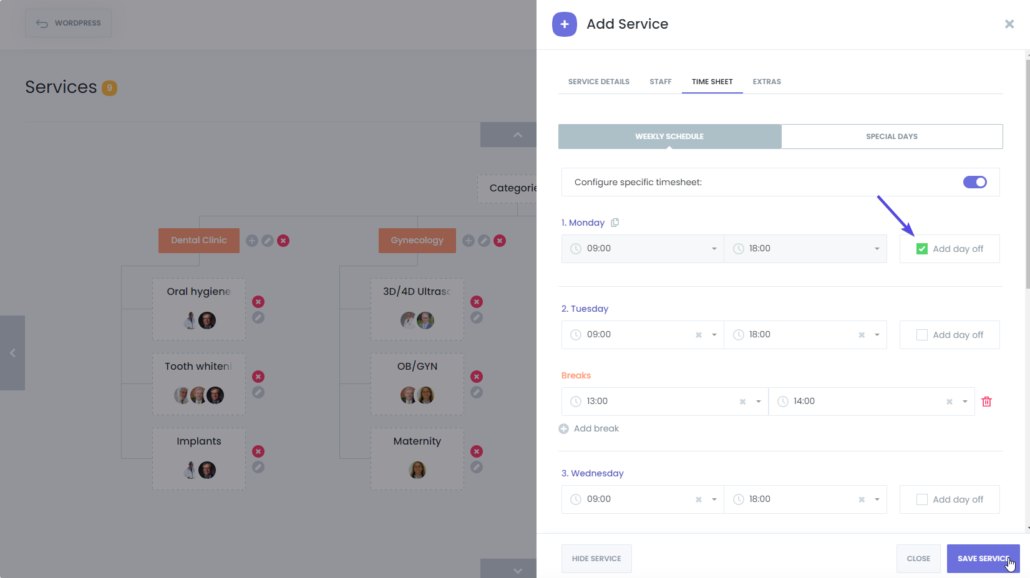 What are Special days?
If you do not want to work only on certain days a month, or if you have any plans for any day in advance, you can set this day as a special day in advance. This day will appear as busy on your booking panel.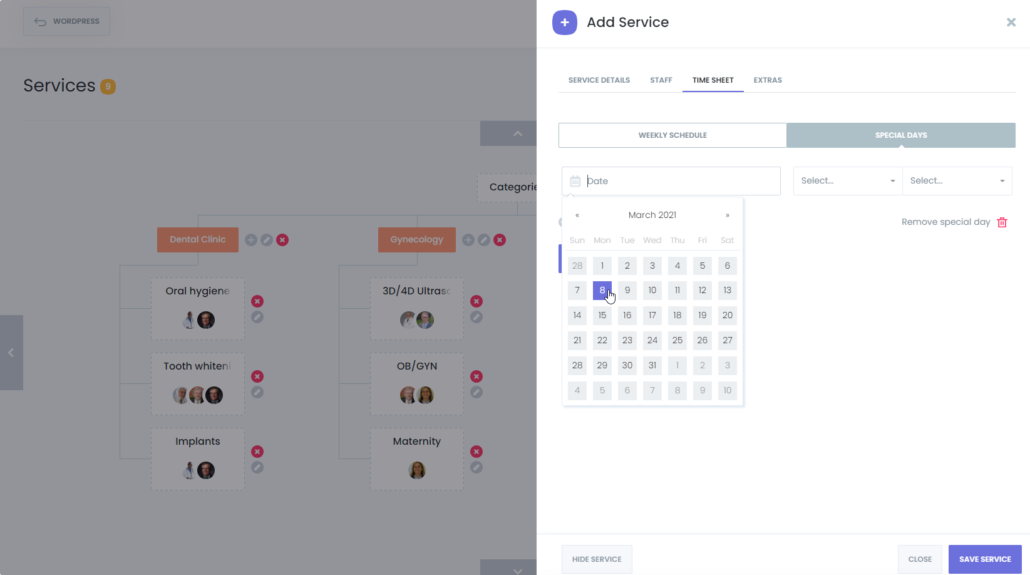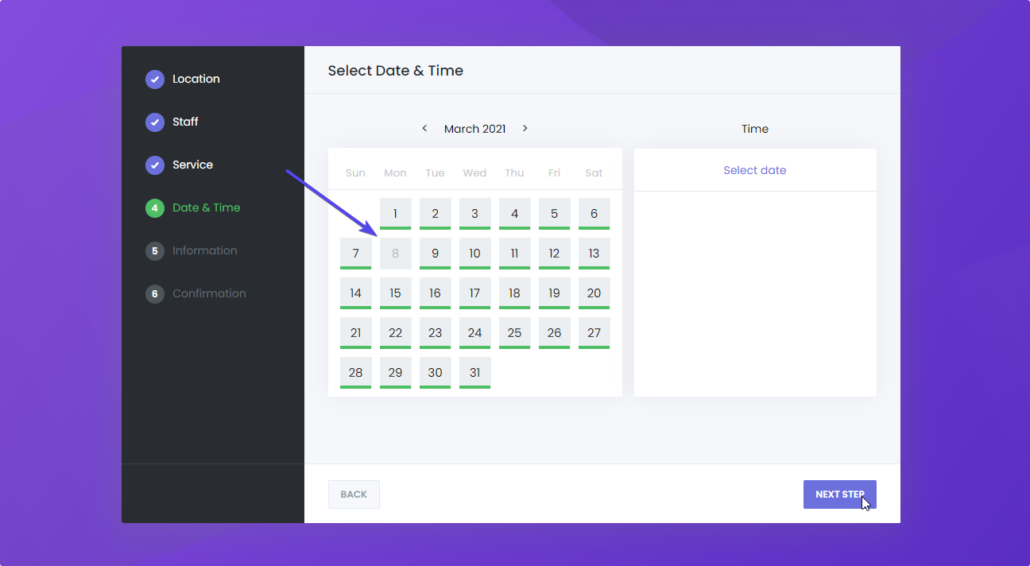 Responsive web design is the approach that suggests that website development and design should respond to the behavior and environment of the user. This includes screen size, platform, and orientation.
Let's talk for a moment about the growing body of proof that undoubtedly shows how responsive design is one of the important factors that could make or break your business online.
First off, depending on your audience and industry vertical, mobile users could account for up to 70% of your email opens.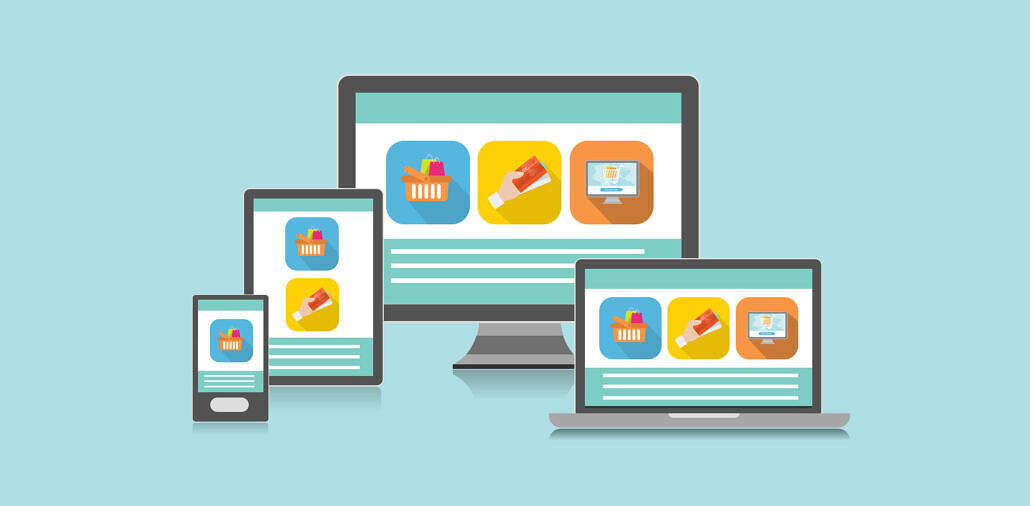 Furthermore, the typical smartphone user today checks their device an average of 150 times per day—that's 150 opportunities for you to break through and convert a prospect to a customer!
Google announced earlier this year that mobile searches now exceed searches done via computer. Specifically, Google said that "more Google searches take place on mobile devices than on computers in 10 countries including the US and Japan."
With its responsive interface, OnlineBookMe.com leads its users to better user experience. A major factor indicating the quality of user experience is the time they spend on your site. If they find it hard to navigate or use because they're forced to constantly pinch and zoom, they won't stay on your website.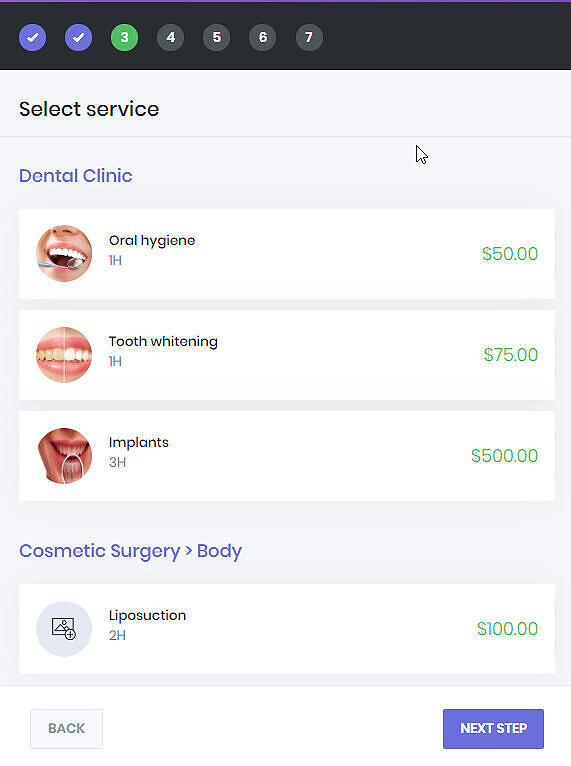 But if your website scales and responds to the change in screen size, then visitors won't have problems accessing menus, links, buttons or filling out forms. As a result, their user experience will be better and they'll spend more time on your site.
Do you need to sell extra service products during your client booking? OnlineBookMe.com lets you advertise and sell your products, related to the service that the client is booking, during the booking process. Such a feature increases your total sales, simplifies your check-out and allows you to concentrate on servicing the client instead of product sales. It is not only easier for you to promote products this way but it also makes the service way more enjoyable when the payments are already out of the way!
With this feature, you can let your clients choose some extra service upon booking. This could be like to let them add that medicines or self-care products, that can be helpful for their health or that can increase the effectiveness of the self-care service that you gave them. Extra Services feature will boost your sales 10-20% without raising any prices at your service.
How to set up the Extra Service feature?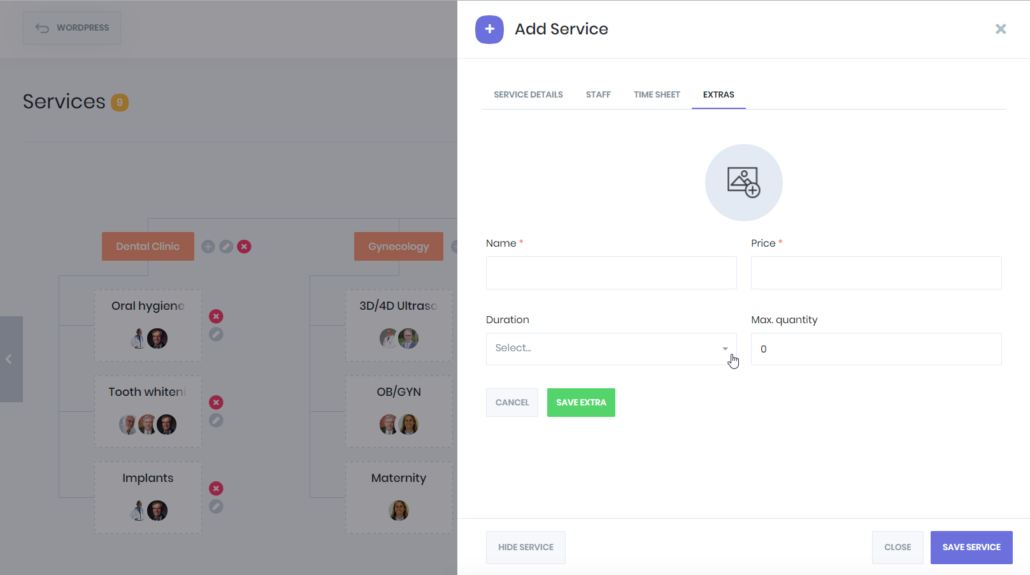 As we mentioned, the installation and operation of each feature have been designed with customer convenience in mind. For setting up the feature, we need to go to service settings and select the service that we want to activate the extra service for. After choosing the service, the extra service section will appear. In this section, we enter the extra service features. Our extra service may be another service or a product. After saving all the changes and settings, this feature is ready to work.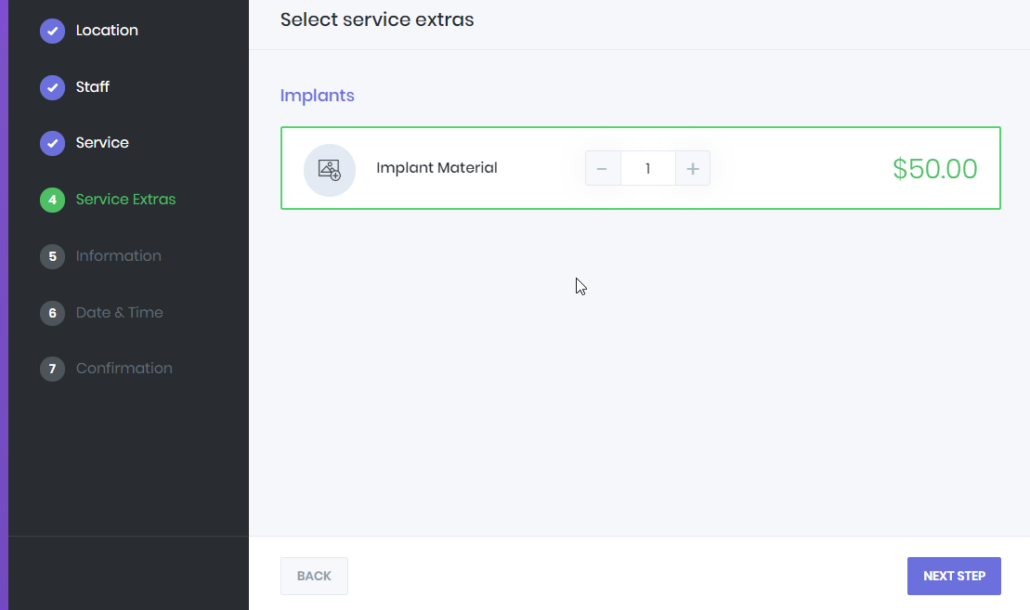 In this way, your customers can select the service specified during their appointment, and choose the newly added extra service in the extra service section. At the end of the booking process, they can make a purchase for both of them.