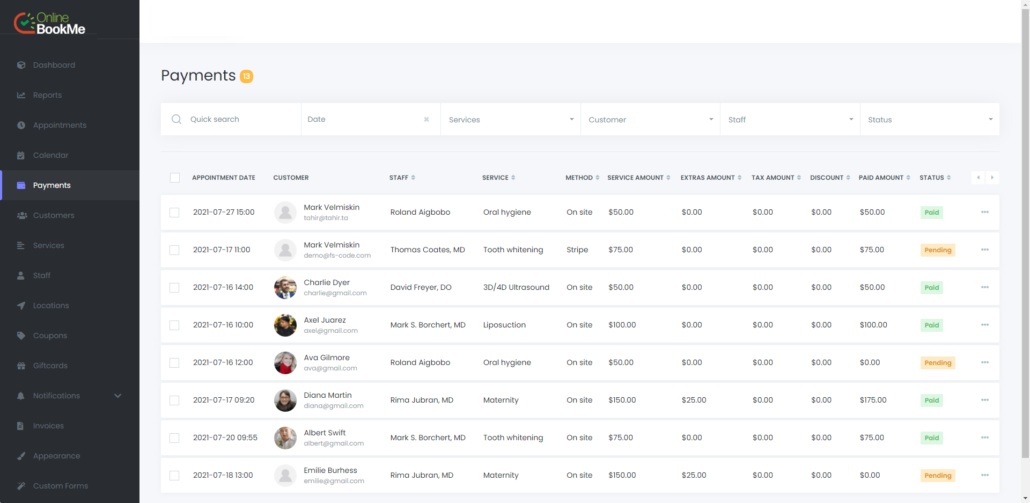 Here you will see the full list of payments. With convenient filters and searching, you can find any payment made. If you can make conveniently view through ASC or DESC in columns of schedule for your need.
If customer completes payment with PayPal or Stripe when online booking, payment status will be seemed to Paid in green.
If customer select local payment when booking, then payment status will remain Pending. And after you receive payment from customer and find that customer on the list; you can launch details by clicking "info" and do any necessary changes.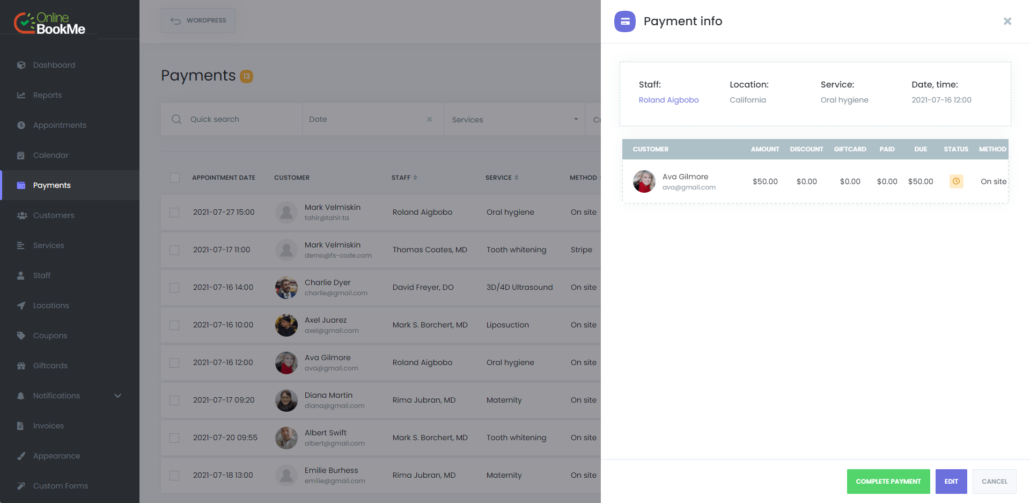 Clicking on the EDIT button, you can change the status by completing a payment.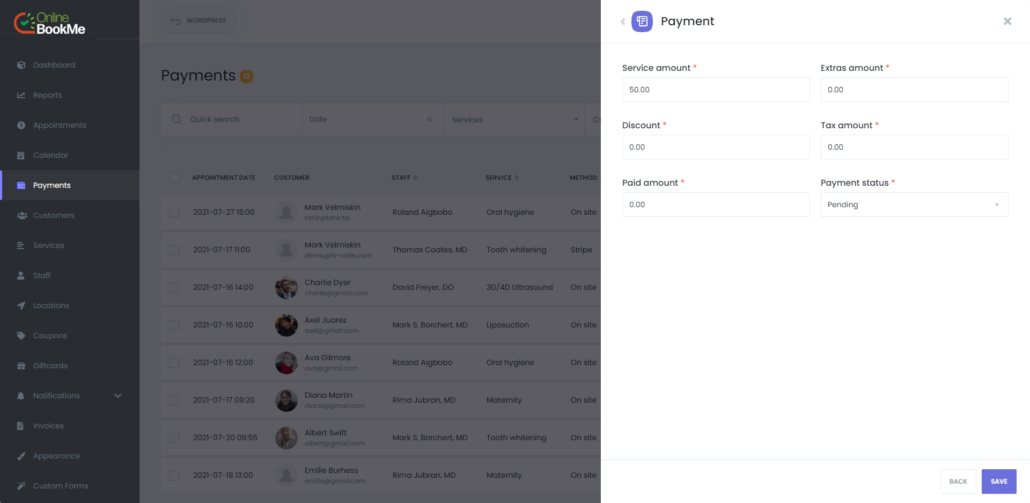 If you have received a full payment, you can mark status as Paid by noting that. Otherwise if partly payment or down payment, you can save status as Pending till the other part of payment received.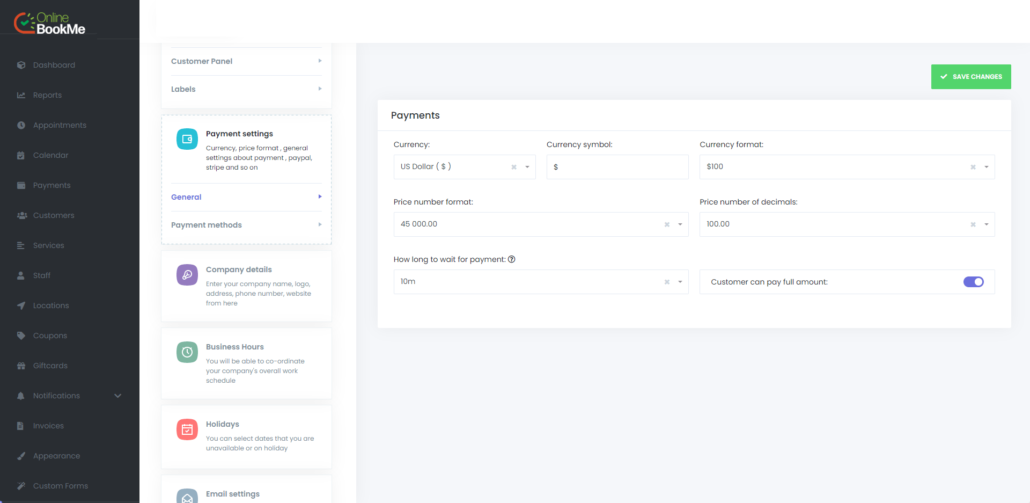 Currency
Here you can choose the currency used by your business.
Default value: USD ($)
Currency symbol
Regardless of the currency you choose, you can use any currency symbol you want.
Currency format
You can specify where currency symbol will be displayed depending your country's currency format. There are 4 type of currency formats:
$100 – Before price
$ 100 – Before price with space
100$ – After price
100 $ – After price with space
Default value: $100
Price number format
You can specify the Price number format with these settings. There are 4 types of formats:\
45 000.00
45,000.00
45 000,00
45.000,00
Default value: 45 000.00
Price number of decimals
From here you can specify how much price will be rounded after comma. If you only need full prices – no need for new rounding, you can do this with the option.
Default value: 100.00 ( 2 decimals)
How long to wait for payment
Sometimes customers fail with their payment. With the help of this feature, if your customers fail to pay for any reason, the system will wait for the customer for the period of time you choose and the time slot chosen by the customer will be kept for him/her. If the customer cannot make the payment within this period, this time slot will be free again and other customers will be able to make appointments for this time slot.
Customer can pay full amount
With the deposit payments feature, your customers can book for the services you want by only paying the deposit fee. However, if you activate this option, your customers can pay the full service fee in addition to the deposit fee if they wish.
Payment methods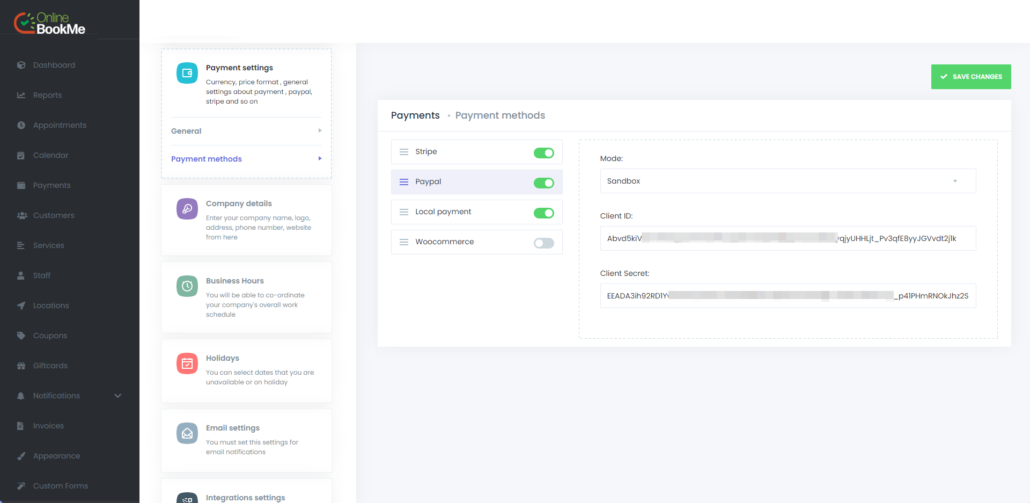 Stripe
If you disable this setting then customers won't see Stripe choice when booking. Otherwise, if you activate this choice you must create a new App on your Stripe account.

To create an App, you can get information Stripe Documentation for Building Extensions:
Enter Publishable key you create App and the Secret key to appropriate areas in these settings.
The currency you choose in Settings -> Payments must be supported from the Stripe server!
PayPal
If you disable this setting then customers won't see Paypal choice when booking. Otherwise, if you activate this choice you must create a new App on your Paypal account. You can create a new Paypal app by visiting PayPal application page
Enter client ID of your creating App and the client's secret to appropriate areas in these settings.
Try and save Sandbox from Mode if you want to test the Paypal processing engine. After the test, you can change the Sandbox mode to Live mode.
The currency you choose in Settings -> Payments must be supported by Paypal!
Local payment
It is a payment method that does not require any online payment among payment methods. If you use this payment method, your customers will be able to make appointments without making any payments. If you want to receive appointment payments from your customers when they come to your business, this method will be suitable for you.
WooCommerce
One of the most used payment methods is WooCommerce. This is because it contains thousands of payment gateways. If for some reason you don't want to use PayPal and Stripe, the Woocommerce payment method is for you. You can install and use any payment gateway supported by Woocommerce.
WooCommerce is one of the most used eCommerce platforms in the world. The vast majority of online payment systems used in the world are not available in all countries. But since WooCommerce has spread widely around the world, every country has platforms compatible with WooCommerce. Besides, WooCommerce is very useful for invoicing and taxing customers.
It is a single click to integrate Woo Commerce and OnlineBookMe.com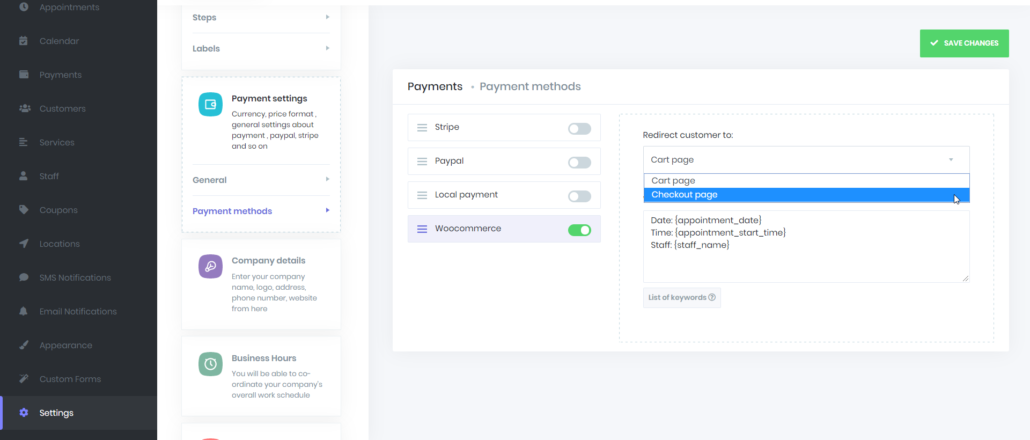 For integration WooCoomerce and OnlineBookMe.com, you need to go to General Settings, Payment Settings and enable WooCommerce settings. You can redirect your customer to the cart or checkout page.  After your customers complete their payments, their appointments are completed and recorded in their system.
Why demanding deposit payments is important?
Whether you're working in the beauty, fitness industry or any other business that charge for services – every service professional's been there: you arrive at work and take stock of the day's schedule. You're fully booked, and you're waiting for the day to start, ready to greet your first client. And you keep waiting. Maybe the phone rings, and it's your client, canceling 15 minutes after their appointment was scheduled to start. Now, you're left scrambling. Even with your waitlist enabled, it's often too late to re-book the newly vacant spot. Now, you're left in an impossible position: do you enforce your cancellation and no-show policy, and risk losing the client, or do you simply take the hit to your daily income?
Every day, service professionals navigate the delicate balance between the client's need for flexibility and their business's need for security. While there's no cure-all for cancellations and no-shows, there are ways to minimize and manage them professionally. Deposits are a way to help curtail no-shows and last-minute cancellations, secure partial payment for services booked in advance, and avoid uncomfortable client situations.
How to set up deposit payments to your Appointment Booking system?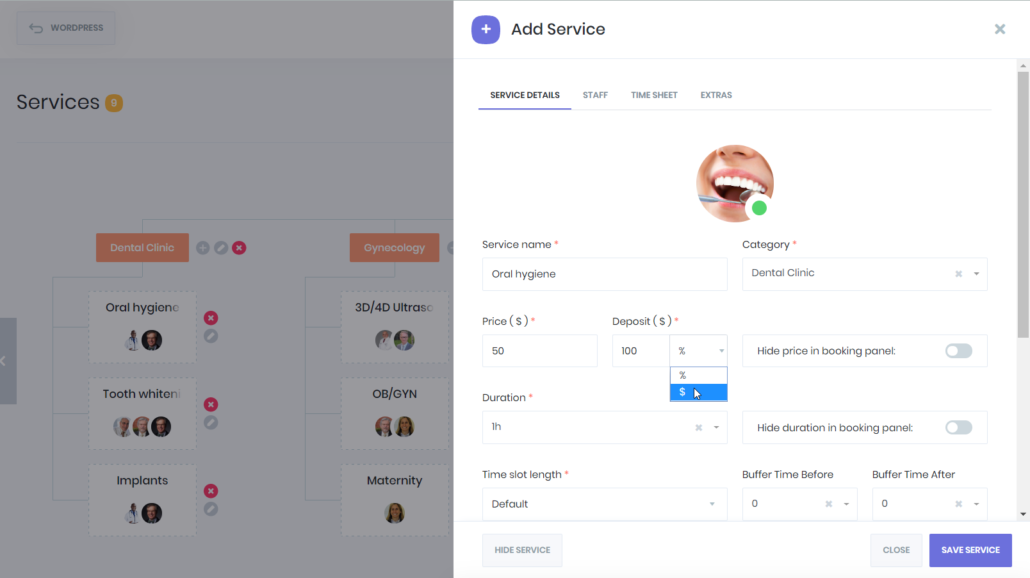 Setting up deposit payments is very simple. To do this, you need to go to the service settings and determine how much deposit you will be paid for the appointment request. This deposit can be a certain percentage of service or a fixed number. Everything is ready after you set it up and save the change!
Our Appointment Booking system has integration with many online payment systems. You can receive your deposit payments with Stripe, PayPal payment methods. Or if you want, you can use WooCommerce for your payments. This way, you can safely receive online deposit payments. When your customers do not come to appointments, you will not experience financial damage.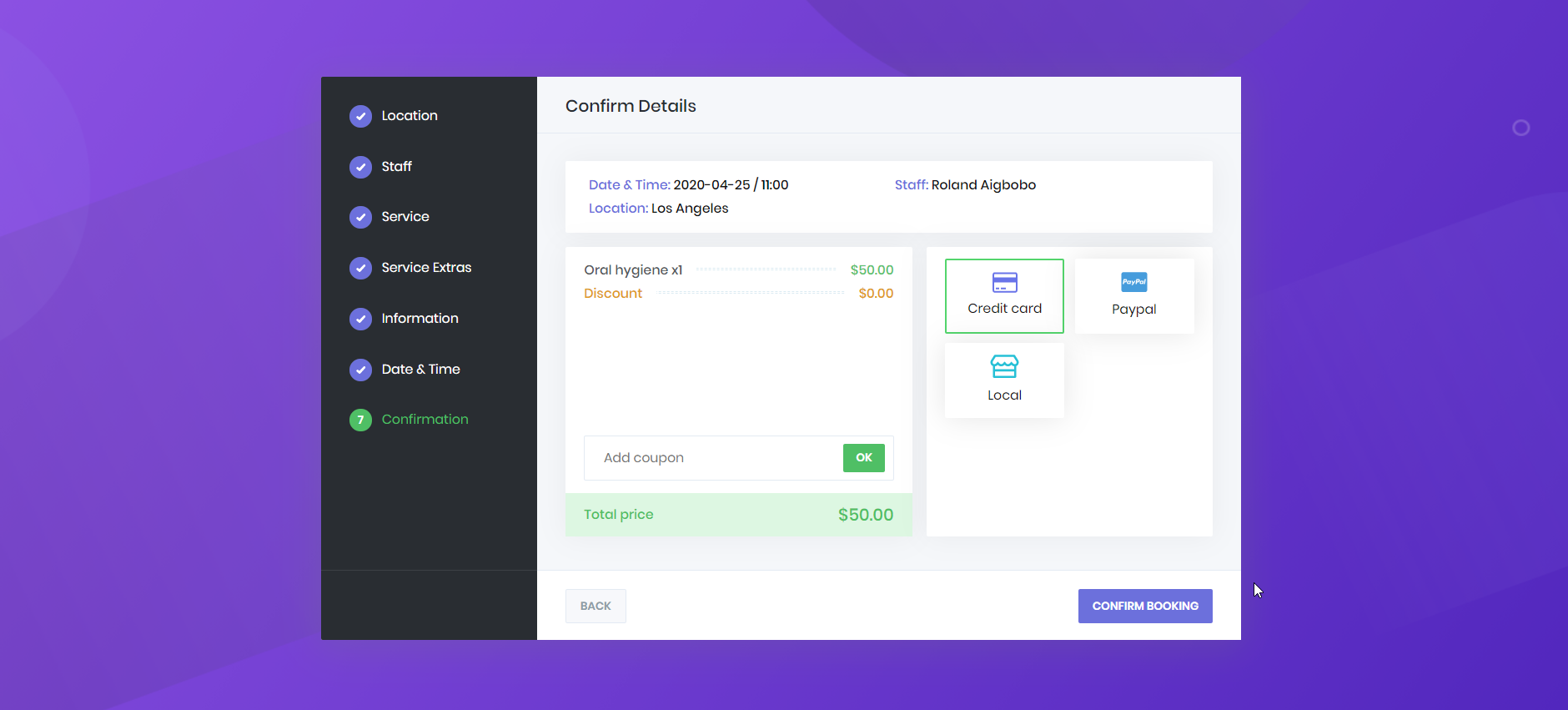 PayPal is an online financial service that allows you to pay for items using a secure internet account. You simply add your bank account, credit card or debit card details and whenever you pay using PayPal, you can choose which of your cards or accounts it pays with. You can also set one to be the default payment method and that will be used unless you choose otherwise.
In addition to paying for items using PayPal, you can also receive money through the service. Any money received sits in your PayPal account and can be used when paying for something, with the balance topped up by your assigned cards or bank account.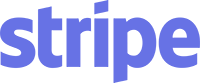 Stripe was founded in 2010 with the mission of making it easier to accept payments over the internet. At the time, taking credit cards meant working with a legacy processor or a middleman broker who would provide you with access to a processor.
Then there were the banks you had to deal with, the credit card companies themselves, and a slew of additional services that were often poorly explained and sold by various third parties. Long story short, accepting credit cards was an incredibly complicated and poorly explained process.
Stripe set out to fix a lot of that by streamlining the process. They added services and features like fraud protection, fixed rates regardless of network, and an application programming interface (API) that allowed app makers to easily incorporate card processing into their apps.
Why their integration is so important?
Stripe and PayPal are the most used and most popular payment systems in the world. PayPal is very common and Stripe provides turnkey credit card billing solution that you can setup almost instantly with basic business info.
If you want to bill your customers online you need to use one of these or both services.
Online payments are very important for the automation of your system and the quality of service you provide to your customers. Therefore, the more reliable and popular the online payment system you use, the higher the number of online payments you get.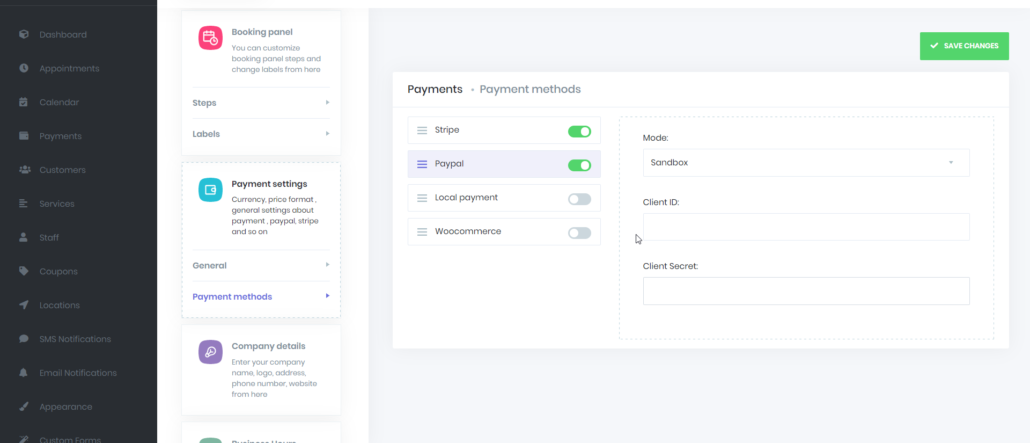 For integration PayPal and Stripe to OnlineBookMe.com Appointment Booking Solution, you need to go to General Settings, Payment Settings and enable them. More information to setup these can be found in here.
After this step, the only thing you need to do is enter your account information related to these payment gateways.  After your customers complete their payments, their appointments are completed and recorded in their system. We do not handle actual payments or get commission from your payments.