Why demanding deposit payments is important?
Whether you're working in the beauty, fitness industry or any other business that charge for services – every service professional's been there: you arrive at work and take stock of the day's schedule. You're fully booked, and you're waiting for the day to start, ready to greet your first client. And you keep waiting. Maybe the phone rings, and it's your client, canceling 15 minutes after their appointment was scheduled to start. Now, you're left scrambling. Even with your waitlist enabled, it's often too late to re-book the newly vacant spot. Now, you're left in an impossible position: do you enforce your cancellation and no-show policy, and risk losing the client, or do you simply take the hit to your daily income?
Every day, service professionals navigate the delicate balance between the client's need for flexibility and their business's need for security. While there's no cure-all for cancellations and no-shows, there are ways to minimize and manage them professionally. Deposits are a way to help curtail no-shows and last-minute cancellations, secure partial payment for services booked in advance, and avoid uncomfortable client situations.
How to set up deposit payments to your Appointment Booking system?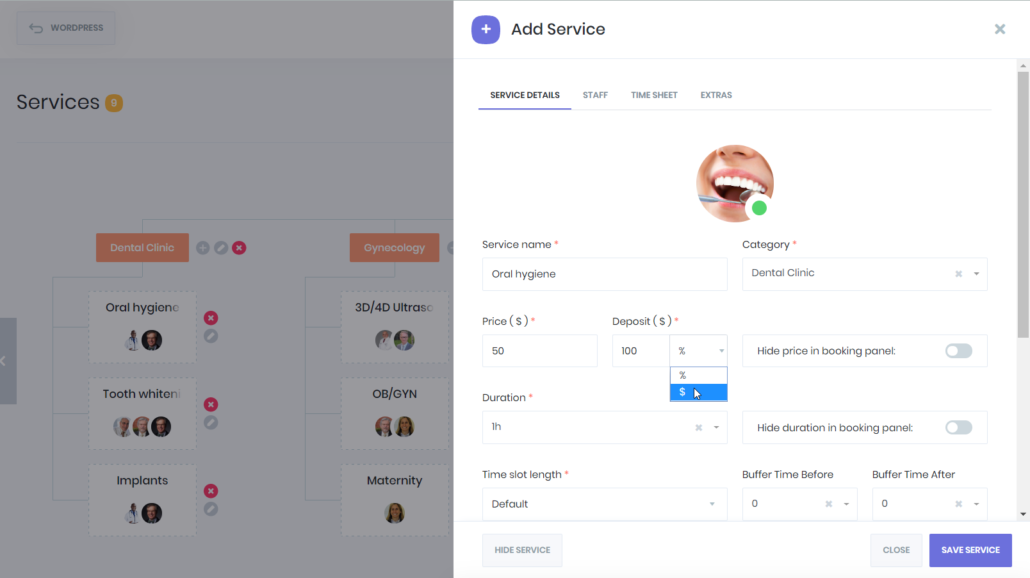 Setting up deposit payments is very simple. To do this, you need to go to the service settings and determine how much deposit you will be paid for the appointment request. This deposit can be a certain percentage of service or a fixed number. Everything is ready after you set it up and save the change!
Our Appointment Booking system has integration with many online payment systems. You can receive your deposit payments with Stripe, PayPal payment methods. Or if you want, you can use WooCommerce for your payments. This way, you can safely receive online deposit payments. When your customers do not come to appointments, you will not experience financial damage.