With the OnlineBookMe.com, you can customize your custom fields for your business needs by using the multi-function Form Builder with your Front-end booking panel. You can design different forms at the same time and select each form for different services. Click the CREATE NEW FORM button in the Custom forms menu to create a new form.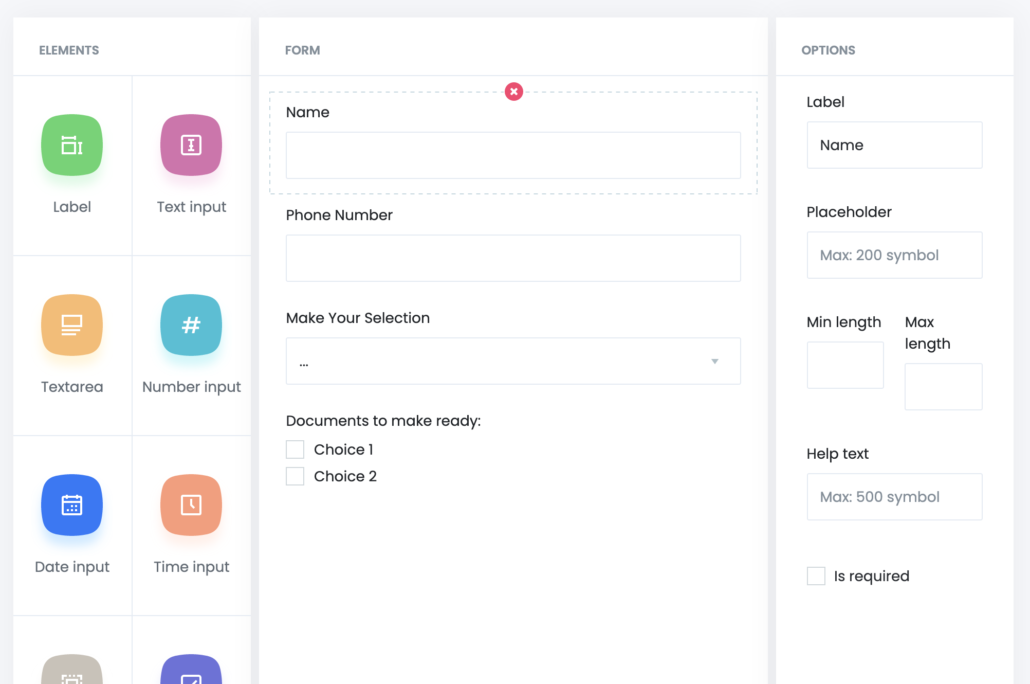 For the first time in the open panel, you need to name the form in the upper section and look at what services this form belongs to right away. Then you can build the form with the form builder tool. In the left pane you can see the types of fields that you can use in the form.
The following types are supported:
| | |
| --- | --- |
| Label | Any label that is desired in your form will not be added to this field. No functionality will be available. You can just add labels of a data character. |
| Text input | Use this field to override the text input form |
| Text area | You can use this field if you want to add long text to your text form. |
| Number input | You can use this field to override your file form to receive regimen-type information. |
| Date input | If you want to add a date input to your form, you can use this field. |
| Time input | If you want to add a time input to your form, you can use this field. |
| Select | You can use the for field to add a select type input. |
| Checkboxes | Use field for adding multi-selection checkboxes. |
| Radio buttons | If you want to use radio buttons, you can use this field. |
| File | If you want to overwrite file upload files, you can use this field. |
| Link | If you try to add a form link, you can use this field. It does not have functionality, you can just add links to the content. |
Adding fields to your form is very simple. With the drag & drop function you can grab an item and drag it to the desired shape.
Once you add an item to a form, you can change its options to the right. For example, you can specify the label of the item, placeholder, help text, from these options. By changing the options you can visually change the look of your form.
After you have added the fields you need together with the options, you can restore the form by clicking on the SAVE FORM button.
When you want to delete or edit a form, you can click on the options in front of it and click on the Edit or Delete button accordingly.
Although appearance, design, and color selection seem ordinary, they have crucial importance for every business. Taking into account this factor, our Appointment Booking Solution offers a wide selection of colour choices for our users.
Why Colours Are Important?
Red, Blue, Yellow, Green, colors may just be part of the basics but for businesses– they stand an important role.
Color is very important in branding and marketing because it is where the first reactions of customers are based. Also, colour is the secret in producing a good commercial identity for a company. Colours are more than just visual attention because colours communicate with emotions, feelings, and experiences. There are meanings behind various colours and for companies, it will help if they are abreast of this because choosing a colour scheme can affect their business – it may either make or break them.
Each company attaches importance to choosing the right look and color for the right communication with its customers. Choosing the right colour will make an important contribution to your business, and wrong color tones can be harmful.
It also has great importance in integrity in color choices. Although your site design and brand colors are in harmony, if the plugin you use is in a completely different color, this may not look good.
Choose your Appearance: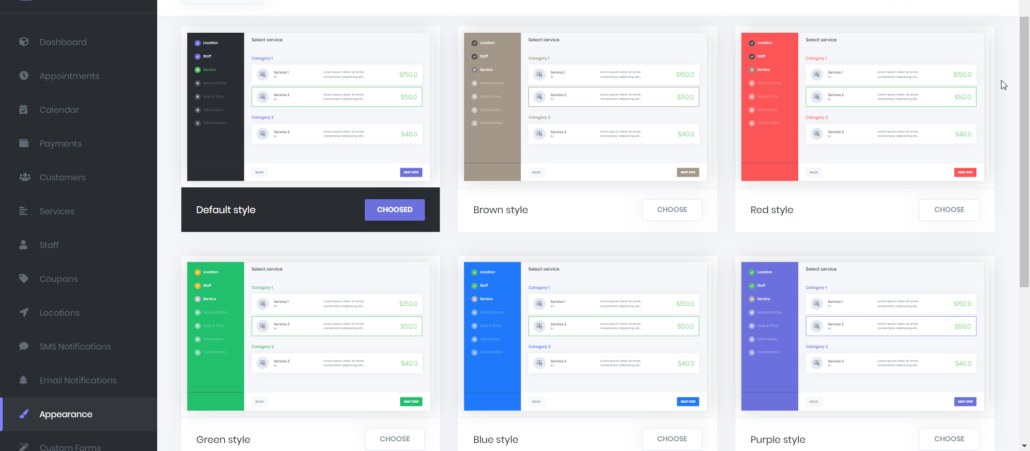 With all this in mind, our Appointment Booking Service has a fully editable interface. By going to the appearance settings, you can choose the one you like from many different themes.
Create your style: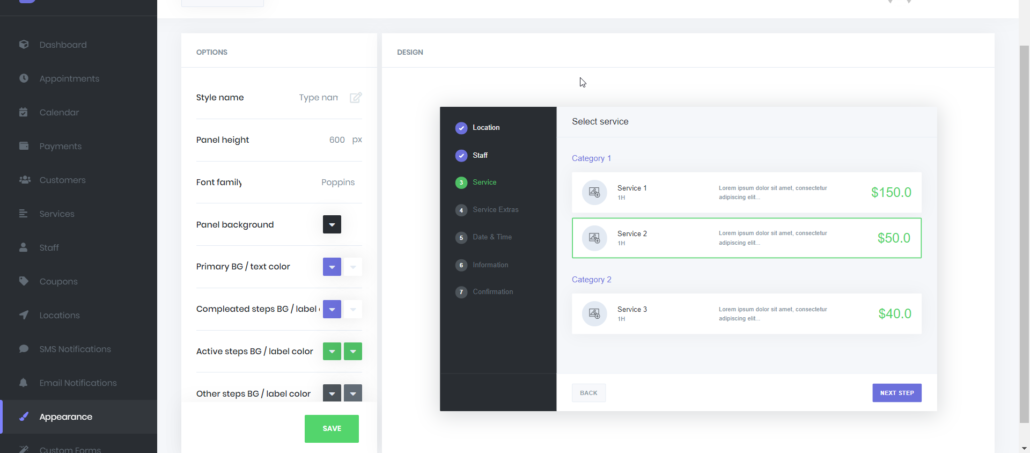 Also, you don't have to make do with these colours. If you want, you can create your theme and design the Appointment Booking Form from the very beginning following your brand design. Moreover, the editing option is not limited to colours. Many features, from panel height to fonts, are set up to be edited for you.
Do you need to sell extra service products during your client booking? OnlineBookMe.com lets you advertise and sell your products, related to the service that the client is booking, during the booking process. Such a feature increases your total sales, simplifies your check-out and allows you to concentrate on servicing the client instead of product sales. It is not only easier for you to promote products this way but it also makes the service way more enjoyable when the payments are already out of the way!
With this feature, you can let your clients choose some extra service upon booking. This could be like to let them add that medicines or self-care products, that can be helpful for their health or that can increase the effectiveness of the self-care service that you gave them. Extra Services feature will boost your sales 10-20% without raising any prices at your service.
How to set up the Extra Service feature?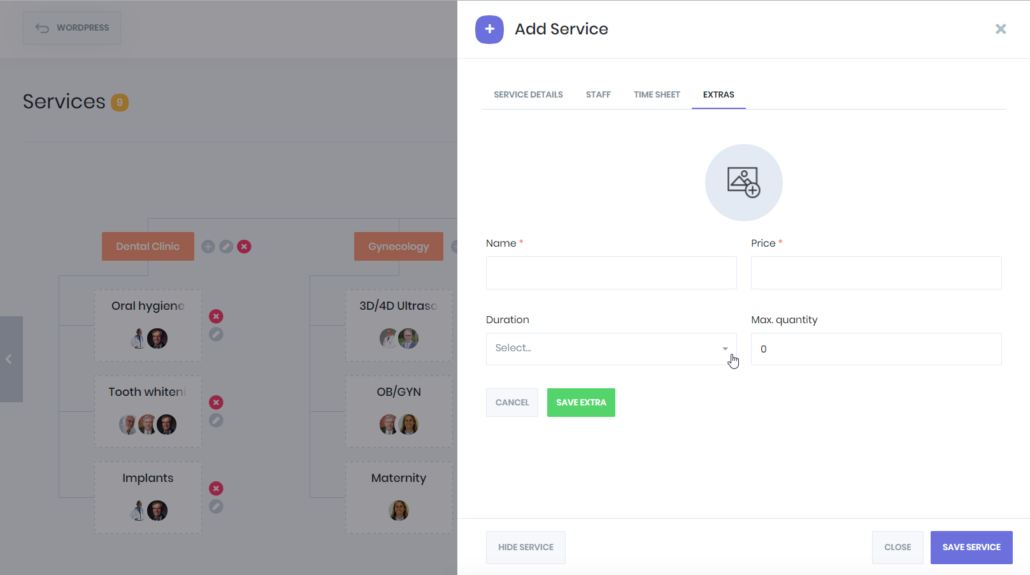 As we mentioned, the installation and operation of each feature have been designed with customer convenience in mind. For setting up the feature, we need to go to service settings and select the service that we want to activate the extra service for. After choosing the service, the extra service section will appear. In this section, we enter the extra service features. Our extra service may be another service or a product. After saving all the changes and settings, this feature is ready to work.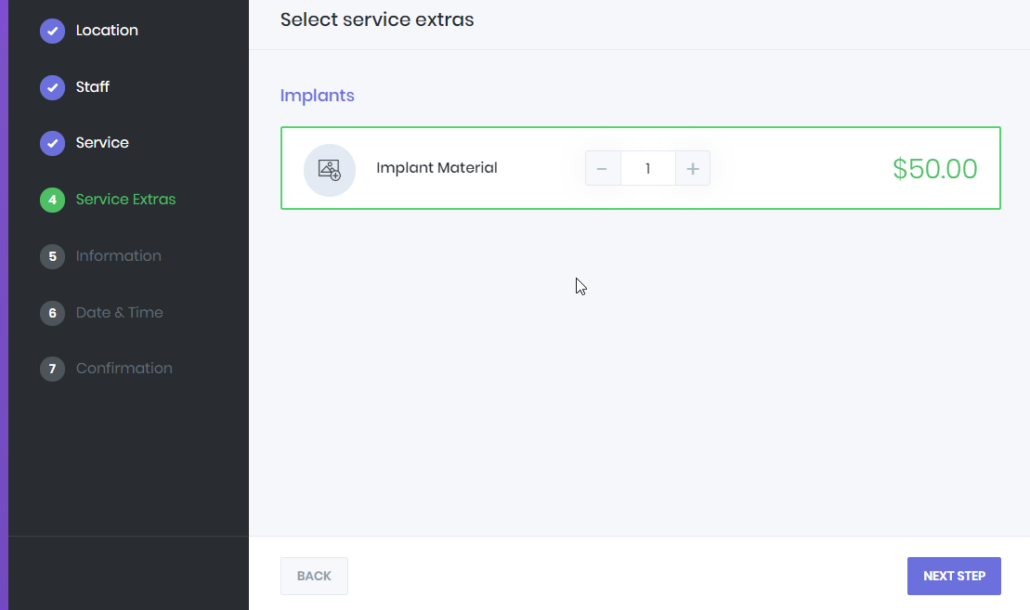 In this way, your customers can select the service specified during their appointment, and choose the newly added extra service in the extra service section. At the end of the booking process, they can make a purchase for both of them.
Although OnlineBookMe.com is designed for all businesses, very specific forms may be required in some business processes. For example, you can ask your customers to fill special fields before coming to the appointment. Or you can ask your customer to upload a special document to the system before arranging an appointment. Maybe you can request that the link to social media accounts. Or you can ask them to fill out a short test before the appointment.
OnlineBookMe.com has developed Form Builder to solve such problems. Moreover, you don't need to know any code or HTML for building such custom forms. With our tool, you can customize your custom fields for your business by using the multi-function Form Builder for your Front-end booking panel. You can look at different forms at the same time and select each form for different services.
With its Label, Text Input, Text area, Number input, Date input, Time input, select list, CheckBox, Radio buttons, File Upload and Link fields you can create any type of form you want at your Booking Panel. You can make fields required or you can leave them as optional. All you need just do some drag and drop jobs and that is all!
You can reach Form Builder from Custom Forms tab from the back-end panel of your OnlineBookMe.com Dashboard. You can also choose which service to use for the form you create on this tab.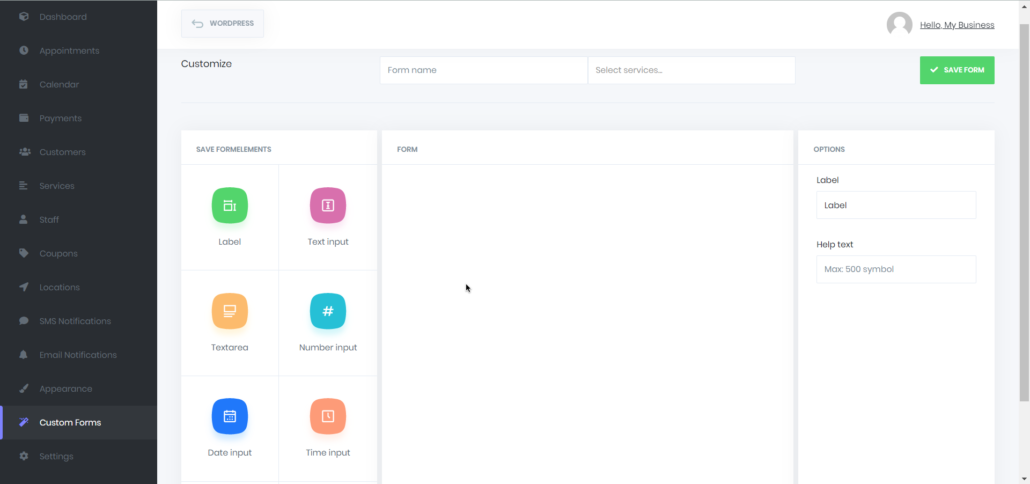 After finishing and saving form you can display your form the Information part of the front-end interface of OnlineBookMe.com Appointment Service. After the customer completes the appointment, the form will come to your system with other information. In this way, you can customize your Booking Panel as you wish and request unlimited information from your customers.