To integrate with Zoom; go to Settings -> Integration with Zoom;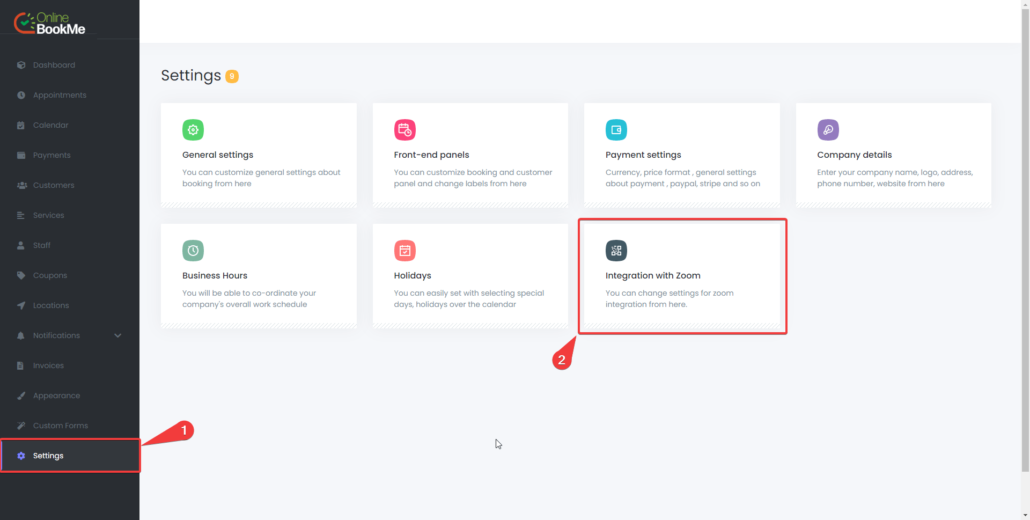 Click the "CLICK TO CONNECT WITH ZOOM" button;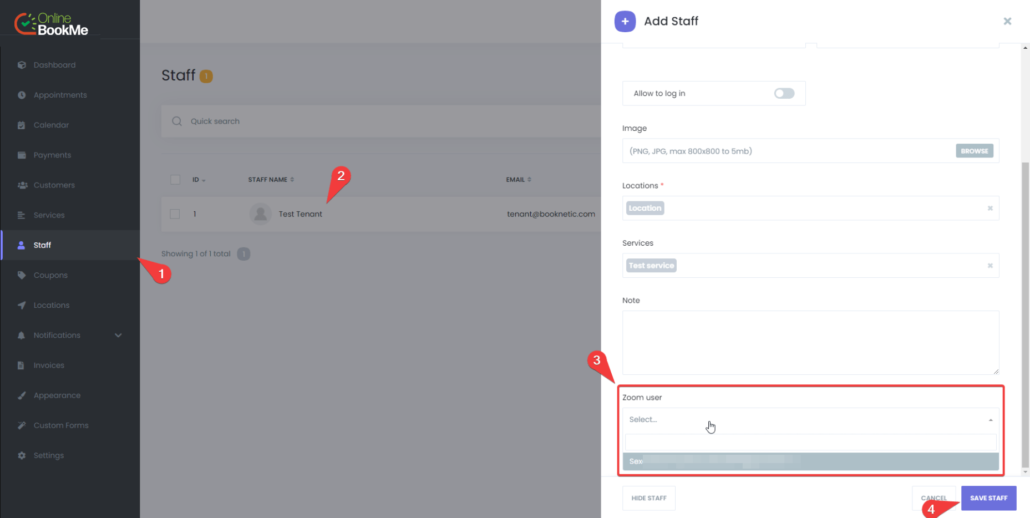 Allow the necessary permissions to authorize your Zoom account.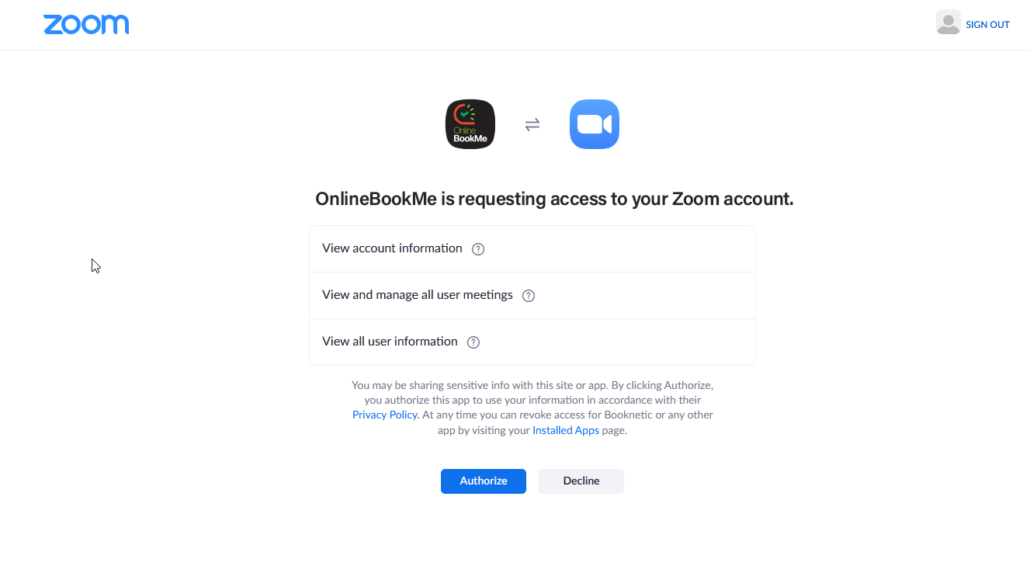 After authorization, you will see returning to the previous page. There you will see a notification that your Zoom account has already been connected.
You can disable integration with Zoom or connect to another Zoom account by clicking the Disconnect button at any time in future.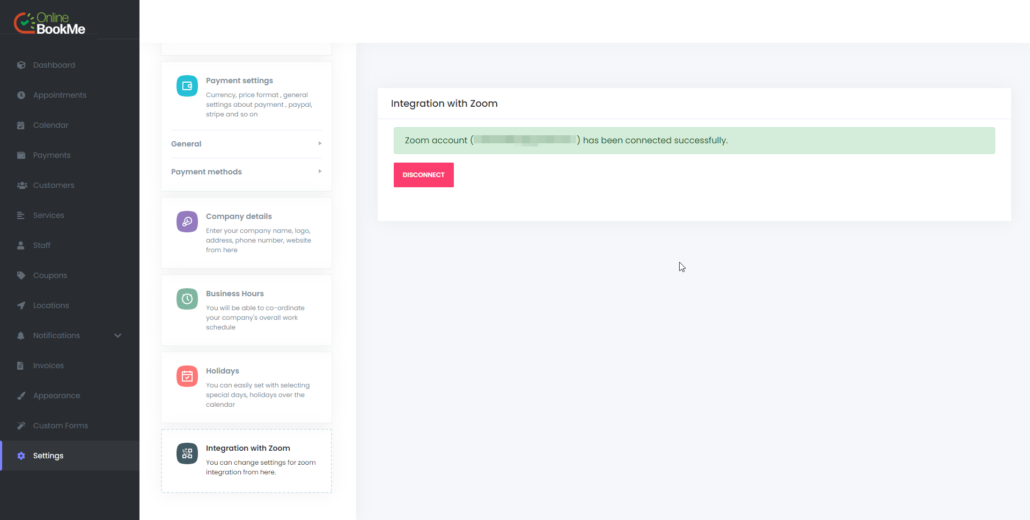 In the next step, you need to activate Zoom for the service by editing the services;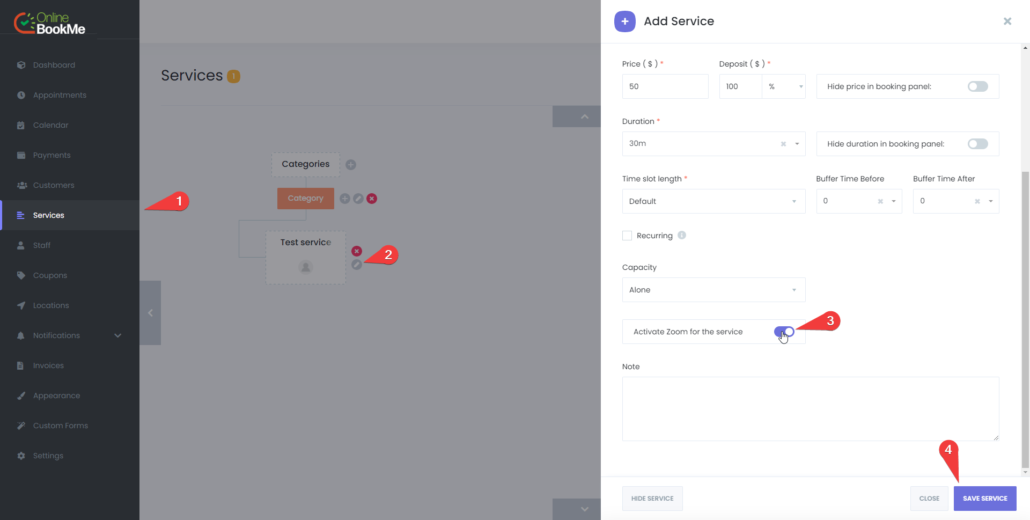 Then connect the Zoom account with the required staff member. To do this, go to the staff module and select the staff member you want to connect to Zoom, and edit it. In the Zoom user section, select and save the required Zoom account;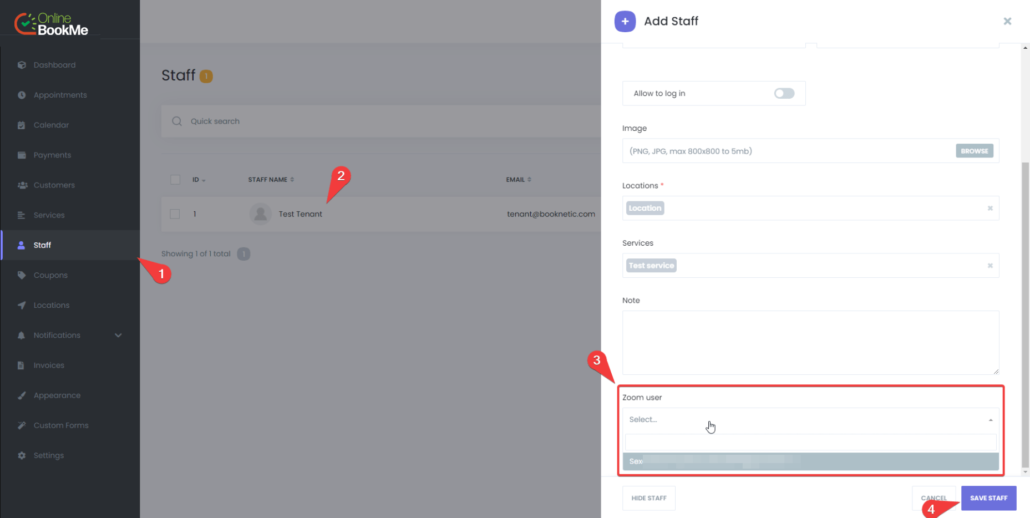 You are now connected to Zoom. A meeting will be automatically created on Zoom on the appropriate date and time when online bookings are made. System will send you and client the URL of this meeting using Email, SMS, and Whatsapp notifications. Please check your notification settings. Only paid plans agve SMS and Whats Up functionality.
Uninstalling the OnlineBookMe Add-on From Your Zoom account
Login to your Zoom account and navigate to the Zoom App Marketplace.
Click Manage -> Installed Apps or search for the Booknetic app.
Click the OnlineBookMe app.
Click Uninstall.
We have integrated Zoom with our Appointment Booking System to support our users' businesses and operations for online meetings.

After the COVID-19 coronavirus pandemic spreading over the world, Zoom has converted a vital tool for teams of small-, medium-, and large-sized businesses that want to keep in touch and continue their daily works with minimum disruption. Thanks to its new integration, you can plan meetings with your customers directly on Zoom. With your Zoom Integrated Appointment Booking system, you need to plan and combine your meetings in different places. Now all in one place!
About Zoom
Zoom is a cloud-based video conferencing service you can use to virtually meet with others – either by video or audio-only or both, all while conducting live chats – and it lets you record those sessions to view later. Over half of Fortune 500 companies reportedly used Zoom in 2019.
What are the advantages of using Zoom?
1. Modern communications for your dispersed team
You can get your entire team together on video (up to 100 participants standard), or just to have a quick one-on-one meeting. Zoom's HD video and audio deliver, even in low-bandwidth environments, so your teams can easily connect, collaborate, and work with agility.
2. Single platform for meetings, phone, and webinars
You can use your resources wisely with a single solution for meetings, webinars, phone, and chat. Your employees only have to use one tool, and they'll love you for that! The best part: Zoom continues to innovate its platform to meet expanding business needs, so you'll never have to worry about finding another communications platform.
3. Connect via desktop clients, browsers, conference rooms & mobile devices
Zoom is all about flexibility and simplicity. Zoom works seamlessly across all your operating systems — PC, Mac, Linux, iOS, and Android — so your employees aren't locked into specific devices. You also can affordably video-enable any conference room or meeting space with Zoom Rooms, which also are hardware agnostic and simple to set up (even first-graders can do it!). Or try one of Zoom's all-in-one appliances, which further simplifies how you deploy, manage, and scale the room experience.
How does Zoom work with OnlineBookMe.com Appointment Booking System?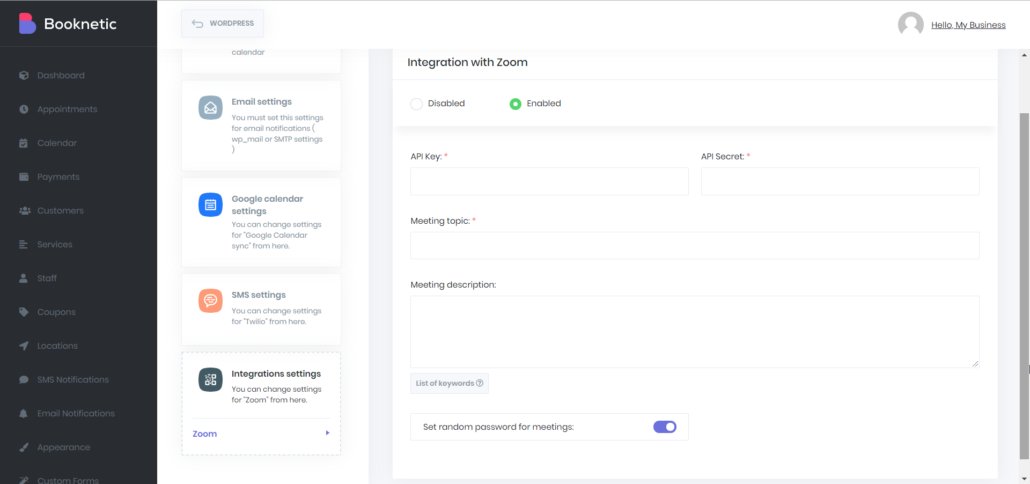 Integrating your zoom account with OnlineBookMe.com requires very simple operations like all the integrations in our booking system.
You are supposed to go to Integration Settings via General Settings. From here you enable Zoom Integration and enter your Zoom account details. That's All! Your booking system is fully integrated with your Zoom Account!